Markets Today: Powell admits recession is possible
Recession or hard landing fears have taken a firmer hold on most markets in the past 24 hours.
Todays podcast
Overview
Powell warns soft landing 'very challenging', recession a possibility
IEA warns Europe Russia may stop has supplies this winter
EC Consumer Confidence falls to below early-stage pandemic lows
Canada CPI rises to 7.7% from 6.8%, much higher than expected
UK CPI rises to 9.1% from 9.0% as expected
FX, commodities and bonds showing more hard landing fear than equities
'Flash' PMIs everywhere today
It's a hard, And it's a hard, And it's a hard rain's a-gonna fall – Bob Dylan
Recession or hard landing fears have taken a firmer hold on most markets in the past 24 hours.   Benchmark government bond yields have fallen by 13-15bps in Europe and the US, commodity prices such as oil and copper have extended their APAC session weakness while the AUD has fallen to low of 0.6881, just shy of its May 12 year-to-date and two-year low. The US equity market is reading off a slightly different script, US equities ending the New York session little changed, though the S&P500 did end more than 1% off from where it was two hours before the close.
There were some chunky moves in equities, bonds, commodities and currencies during our time zone Wednesday, with no particular news events driving the price action. Rather 'deepening recession fears' were the best most of the 24-hour business news commentators could come up with – but which doesn't mean they were wrong or make them bad people.
Yesterday evening, former New York Fed President Bill Dudley penned another Bloomberg Op-Ed in which began, "If you're still holding out hope that the Federal Reserve will be able to engineer a soft landing in the US economy, abandon it. A recession is inevitable within the next 12 to 18 months. " This followed former Treasury Secretary Larry Summers' claim on Monday that the US needed five year of unemployment at or above 5% to cure its inflation problem. To be fair, Dudley did in a follow-up video says that he sees only mild, not deep recession
Overnight, we have head from incumbent Fed chair Jay Powell in the first of his two semi-annual Congressional testimonies, who called a  soft landing "very challenging" and a recession "certainly a possibility" though said he did not see the likelihood of a recession as particularly elevated right now.  But he added, "The other risk, though, is that we would not manage to restore price stability and that we would allow this high inflation to get entrenched in the economy. We can't fail on that task. We have to get back to 2% inflation." Powell leaves no-one in any doubt that the employment side of the Fed's dual mandate now runs an almost non-existent second behind the imperative of getting the inflation genie back in the bottle.
Economic news overnight hasn't done anything to challenge the market's prevailing mood music. Canada's latest CPI read came in well above expectations, headline CPI up to 7.7% in May from 6.8% and 7.3% expected who the average of its three core measures up to 4.7% from 4.2%. UK CPI  was at last no-worse than expected, lifting to 9.1% from 9.0%. leading the 0.7% monthly rise was a 1.5% jump in food prices.
Meanwhile EU Consumer Confidence slumped to -23.6 in June from -21.1, putting it just beneath the worse levels seen in the early stages of the pandemic (a revised -22.0 in April 2020). Soaring inflation and the knock-on effects from the Ukraine war are the drivers On the latter and to cap off the bearish mood from this particular dismal scientist, the BBC news alert that greeted me alongside the alarm clock this morning read " Head of IEA (International Energy Agency) warns Russia may stop supplying gas to Europe this winter". It says that while a complete shut-off was not the most likely scenario, Europe needs to work on contingency plans just in case.
To markets and the bond market vigilantes, who last year led the moves in currencies and equities, have taken recession concerns more to heart in the last 24 hours than the fear of central banks having to go still harder than discounted to get on top of inflation. Thus 10-year Treasury yields are down 12bps to 3.16% and the 2-year note a bigger 14bps to 3.06%.  This follows similar sized falls in Europe where 10-year Bunds were off 14bps (Italy -11bps) and UK gilts an even bigger 16bps at 10 years and 14bps at 2-years – a bit of relief here perhaps that we did not see yet another upside surprise in UK inflation data.
In currencies, We were seeing some significant pressure on every USD FX pair during the APAC region yesterday – including USD/CNY rising to above 6.72 from below 6.70 following a higher than expected PBoC USD/CNY fixing, with AUD and NZD both down the best part of 1%. Losses for AUD/USD and NZD extended to 0.6881 and 0.6244 respectively offshore but have pulled back to 0.6926 and 0.6282 as I type.
Overall USD price action confirms yet again confirms that it was premature to call time on dollar strength in mid-May (plus a few attempts last week after the USD fell post the FOMC meeting).  The DXY and broader BBDXY indices are both actually 0.2% lower on a NY close-to-close basis, but only after the DXY came within 0.7% of last week's new cycle high. As NAB's FX Strategists noted earlier his week, while we aren't confidently calling yet new highs for the USD, we aren't yet prepared to call a top with any degree of conviction.
Probably helping the USD pull back from its highs and AUD and NZD off their lows back from its lows was a better performance by US equities in the early afternoon hours together with the fall back in US yields. The S&P 500 nevertheless finished the NYSE session just in the red (-0.13) and the NASDAQ -0.15%) having both been up more than 1% on the day less than two hours before the close.  European bourses all finished in the red, by +/-1%.
Finally in commodities, oil has fallen away again into the NY close with loses either side of $5 for WTO and Brent (from around -$3 when we left off yesterday) while 'Dr Copper', often seen, as bellwether for global growth sentiment, is off 2.5% and Nickel a chinker 5.8% (iron ore at least is fairly flat).
Coming Up
Flash June PMIs are due globally with greatest interest in those out of Europe. In short, whether Manufacturing, Services or Composite, and whether France, Germany, pan-Eurozone or the UK, all readings are expected to (roughly) be between half a point and a point down on May, albeit still all fairly comfortably in expansionary territory (>50).
For the US vintages, manufacturing is seen down to 56.0 from 57.0 but services up a touch (to 53.5 from 53.4). US weekly jobless claims are expected at 226 from 227 (implying a continued modest uptrend in the 4-week average) while the Kansas Fed's Manufacturing Activity index is seen down to 15 from 23.
Fed chair Powell will give the second of his two Congressional semi-annual testimonies, today before the House Financial Services Panel. The ECB publishes its Economic Bulletin.
Market Prices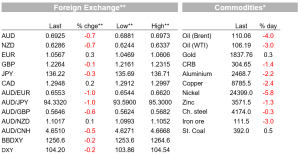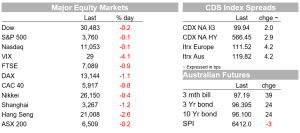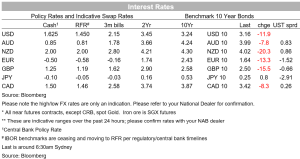 Read our NAB Markets Research disclaimer. For further FX, Interest rate and Commodities information visit nab.com.au/nabfinancialmarkets