Markets Today: Ball of confusion as Biden and Putin fight war of words
Yesterday's glimpses of risk off vibes have intensified over the past 24 hours with Russia Ukraine tensions the main culprit.
Todays podcast
Overview Land of Confusion
Russia Ukraine tensions remain a front and centre issue
Biden accuses Russia of running false-flag operation to justify invasion
Equities are a sea of red, 5y tenor leads decline in UST yields. 10y now at 1.97%
FX remains subdued with the USD mixed against G10. AUD now at 0.7185
Coming Up: NZ PPI, EU Consumer Confidence, UK Retail sales, Fed and ECB speakers
I must've dreamed a thousand dreams
Been haunted by a million screams
But i can hear the marching feet
They're moving into the street – Genesis
Yesterday's glimpses of risk off vibes have intensified over the past 24 hours with Russia Ukraine tensions the main culprit. An escalation in shelling between Ukraine and Pro-Russia Separatists have heightened concerns over an imminent war with President Biden accusing Russia of running false-flag operation to justify an invasion. EU and US equities are a sea of red with a broad decline in UST yields led by the 5y part of the curve. Meanwhile the FX market remains more subdued with the USD little changed and the AUD just below 72c.
Yesterday afternoon rumours began circulating over shelling between Ukraine and Pro-Russia Separatists in Lugansk.  Then, during the overnight session more credible news outlets confirmed the increase in tensions with the WSJ reporting a kindergarten and a school in Ukrainian-held towns had been hit by mortar shells, according to the Ukrainian army and local residents while authorities in separatist areas said mortar attacks had also damaged several buildings in their towns.
For context as well, on Wednesday Russian parliament's lower chamber, the State Duma, voted in favour of sending a resolution to ask President Vladimir Putin to recognise two territories in eastern Ukraine which call themselves the Donetsk and Luhansk people's republics held by separatists as independent states. Russia has been pushing Ukraine to implement the Minsk agreements which, according to Moscow, envision special status for the separatist-controlled territories to give them more autonomy within Ukraine.
Reacting to the news, President Biden said that a Russian invasion of Ukraine is imminent and that he believes a false-flag operation was under way which Moscow could use to justify an invasion. Early this morning and in the hope of easing tensions, US Secretary of State Antony Blinken proposed a meeting with his Russian counterpart Sergei Lavrov in Europe next week.
For now, simmering frictions in the Ukraine are keeping markets nervous (land of confusion?) and after yesterday's glimpses of a risk of tone, news over the past 24hrs have turned sentiment decisively negative. Main European equity indices have ended the day with losses between -0.5 and -1.50% with the Euro Stoxx 600 index, down 0.7%. Losses have extended during the NY session with the S&P 500 currently down 1.74% while the NASDAQ is -2.41%.
UST yields are broadly lower with declines led by the 5y part of the curve, now down 7bps to 1.85% while the 2y is down 5 to 1.47% and the 10y is -6bps to 1.975%. Main European yields are also lower with 10y German Bunds, down 4.5bps to 0.231% while 10y UK Gilts closed 6bps down at 1.46%.
Fed rate hike expectations have also played into the volatility in the UST market . After the release of the January FOMC Minutes, early yesterday, the market is no longer convince the Fed will hike by 50bps in March. The Minutes indicated that Fed officials expect to raise rates more aggressively than the 25bps per quarter pace of the last cycle between 2015 and 2019 due to higher inflation, a strong labour market and stronger growth prospects. However, only "a number of participants" thought "conditions would likely warrant beginning to reduce the size of the balance sheet sometime later this year" while there was no specific comment on the idea of a 50-point move.
Early this morning Fed Bullard reiterated his position that without action on interest rates, inflation could become an even more serious problem, calling for a 100bps of hikes by July . Bullard argues that the Fed should "front-load" rate hikes as a way to get ahead of the current US inflationary pressures. The OIS markets is currently pricing a 33.5bps rise in the Fed Funds rate in March, down from the 48.5bps priced on February 10. To a large extent the swing in market expectations reflects a the lack of a uniform view coming from Fed speakers, of note too none of the Fed's governors (all permanent voters), and most notably Fed Chair Jerome Powell, have spoken publicly on the matter since the central bank's last meeting in January. Governor Waller and Brainard speak early tomorrow morning, a uniform (or not) view could set the tone ahead PCE data due for release next week.
The FX market remains a bystander showing little sensitivity to the volatility in equity and bond markets. The USD is little changed in index terms, down 0.48% against JPY, the preeminent safe have pair and consistent with the risk off vibes in equity markets. Curiously, however, NZD a pro risk pair is up 0.4% to 0.6688 ( still trading within recent ranges and unable to make sustain move above 0.67) while the AUD is also up 0.07, although as I type the latter is showing some nascent weakness and now trades at 0.7185.
US data releases came mostly on the softer side of expectations but didn't elicit much of a market reaction. The Philly Fed fell to 16.0 in February from 23.2 in January, a bit below the consensus, 20.0 while initial jobless claims rose unexpectedly to 248K from 225K, above the consensus, 218K. The decline in the Philly Fed was driven by declines in the new orders and shipments components, though employment rose, reversing its January drop. Following the softer than expected rebound in the Empire Survey, regional surveys are pointing to a potential decline in the US ISM in February.
January housing starts fell 4.1% to 1,638K, below the consensus, 1,695K while building permits rose 0.7% to 1,899K, above the consensus, 1,750K. The fall is housing starts has been largely attributed to weather and worker absenteeism due to the Omicron wave, which peaked in the middle of January.  Looking ahead the rise in US mortgage rate (close to 100bps over the past 10 months and now close to ~4.20%) is potentially a big headwind for the US housing market.
In other news, more European countries are announcing further roll backs of COVID restrictions. Germany announced a three step plan yesterday including no more controls in non-essential shops immediately and more from 4 and 20 March, the latter when most other restrictions will go. Switzerland, Austria, and France seemingly also playing catch-up to the UK, Ireland, and Denmark.
USTR (US Trade Representative) added WeChat, AliExpress to notorious piracy market list. Noting the "two significant China-based online markets reportedly facilitate substantial trademark counterfeiting," .The USTR list aims at raising awareness of the worst intellectual-property abusers and counterfeiters.
Coming Up
New Zealand's Q4 PPI data is the first cab off the rank this morning and then Fed Mester speaks at 9am Sydney time (on Economic and Policy Outlook). Later in the day, the Eurozone gets its advanced February consumer confidence reading and the UK releases retail figures for January. Tonight, the US gets January existing home sales and the Conference Board leading index.
Fed Evans, Waller, Brainard and Williams as well as ECB Panetta speak early tomorrow morning.
Market Prices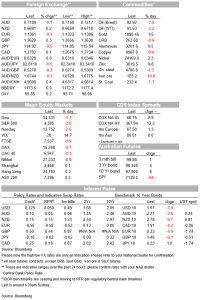 Read our NAB Markets Research disclaimer
For further FX, Interest rate and Commodities information visit nab.com.au/nabfinancialmarkets