Markets Today: American markets doing well because they are not Europe
Investors are showing a preference for US equities with all three major indices enjoying a decent rebound after yesterday's decline.
Todays podcast
Overview I love America
European equities extend decline while US equities enjoy a rebound
EZ PMIs eases only a little, beating expectations
But details show falls in sentiment and concern over inflationary pressures
10y Bunds lead rebound in core global yields. 10y US BEI trade above 3%
USD/JPY relentless rise continues, now above 122 for the first time since 2015
AUD and CAD record modest gains. NZD and EUR modest declines
Coming up: Tokyo CPI, UK retail sales, German IFO, Fed speakers
I gotta job, but, hell, I'm still in debt
I love America- Alice Cooper
European equities extended their decline while US equities enjoyed a decent rebound. Eurozone PMIs, ease only a little, beating expectations, however details show falls in sentiment and concern over inflationary pressures. German bunds lead a rise in core global bond yields with breakevens driving the move up, 10y US BEI briefly trade above 3%. JPY remains unloved with USD/JPY climbing above ¥122 for the first time since 2015. AUD opens the new day comfortably above 75c.
Investors are showing a preference for US equities with all three major indices enjoying a decent rebound after yesterday's decline. The S&P 500 has ended day 1.43% higher more than reversing the 1.23% loss from the previous day.IT was the best performing sector with gains over 2% with NVIDIA stealing a few headlines, up over 9%, following reports the company is interested in using Intel Corp for chip manufacturing. Apple share also gained following reports the company is working on a subscription service for the iPhone and other hardware products. Energy was the only underperforming sector, not helped by a 1.6% decline in WTI oil (Brent -1.2%). The NASDAQ eneded the day 1.93% higher and the Dow was +1.02%. The VIX index continued its decline, ending the day with a 21 handle, down from levels around 36 a fortnight ago.
Meanwhile European equities have remained in struggle street, extending yesterday's decline with the Eurostoxx 600 index down 0.2%. Telecommunications and food and beverages were the best-performing sectors, while retail and construction and materials industries underperformed. Contrasting details between US and EZ PMIs rhyme with the current investor preference for US equities with the war in Ukraine exerting a greater deal of uncertainty inflationary pressures in the old continent.
March Preliminary Eurozone PMIs eased only a little, beating expectations, however details showed falls in sentiment and concern over inflationary pressures (manufacturing 54.8 vs 57.4 prev. while services ease to 54.8 from prev. 55.5). Inflationary pressures and headwinds from the war in Ukraine have been a brake on the boost to activity from the post pandemic bounce back. Yet more confirmation, if needed, that inflationary pressures are now stronger given the post Ukraine war step up in energy and other commodity prices. Business confidence/uncertainty the lowest for nearly one and a half years. Not surprising uncertainties abound, even though the Eurozone economy continued expanding in March at an above the pre-pandemic average.
UK PMI were a mixed bag with similar undertones seen in the Eurozone. The March Services PMI rose to 61 from 60.5 previously vs 58 expected., while the manufacturing PMI eased to 55.5 from 58 vs 57 expected. Growth speed only easing fractionally, overshadowed by "escalating fuel, energy and staff costs resulting in the steepest rise in prices charged since this index began in November 1999. Escalating inflationary pressures and concerns related to Russia's invasion of Ukraine meanwhile led to a slump in business optimism to its lowest since October 2020".
Although not as market sensitive as the ISM surveys, the March preliminary US manufacturing and Services revealed a more positive picture of US activity relative to Europe and the UK with both the Services (58.9 from 56.5) and manufacturing (58.5 vs 57.3) headline reporting an upswing in activity in March .  Activity was supported by an increase in demand boosted by a fading Omicron wave while details also revealed improvement in supply bottlenecks with hiring allowing firms to increase production. That said the war in Ukraine and China's lockdowns were flagged as concerns.
The inflationary dynamics revealed in the PMI did not go unnoticed in the rates markets with core global bond yields rising overnight aided by another lift in breakevens. 10y Bunds rose the most, up 6.4bps to 0.527% while Italian BTPS, climbed 7bps to 2.05%. Meanwhile in the US, 10y UST yields briefly tested levels above 2.40% before easing back down, now trading at 2.35%. Consistent with growing global inflationary pressures, the US 10-year 'breakeven inflation' rate hit 3% for the first time on record, currently up 2bps on the day despite a modest (-1.5%) pullback in oil prices.  The 10-year German breakeven inflation rate also a hit a new record of 2.63% despite the finance minister announcing a temporary (three month) reduction to the tax on gasoline of 30c a litre.
Speaking overnight, Chicago Fed Evans said he's "comfortable" with raising interest rates by quarter percentage-point increments, while being "open" to a bigger 50 basis-point move if needed. He suggested that opting for a bigger hike at one meeting could then create a messaging challenge for the following one. "How you deal with the communications if you do 50, what does that mean for the next one," he said in answering reporter questions. "Once you start talking about different paces, I think it just opens up the question of where are you headed if you're going so fast," Evans said.
Moving onto FX, JPY remains unloved with USD/JPY climbing above ¥122 for the first time since 2015. Last week's break above ¥118, opened the door for the pair to test higher levels with the market now encouraged to see if a revisit of the May 2015 highs of ¥125.63 can be achieved, especially given a backdrop where core global yields remain with an upward pressure from an increase in inflationary forces.
Movements in the other currencies have been much more modest and contained to within +/-0.3% vs the USD. The AUD starts the new day at 0.7515, up 0.21% over the past 24 hours with NZD a  tad lower at 0.6954, overnight the AUD/NZD cross tested levels above 1.08 for the first time in since June last year.
In central banking news, the Norges Bank raised its deposit rate, as expected, to 0.75%, while significantly lifting its projected interest rate track.  The revised projections now see the deposit rate peaking at 2.5% at the end of 2023, some 75bps higher than previous signalled.
Coming Up
Tokyo CPI figures for March are the first cab off the rank today with the headline reading expected to climb two tenths to 1.2%yoy,  ex fresh food the yoy reading is seen at 0.7% vs 0.5% previously while the core-core reading is seen at -0.5%yoy, one tenth higher relative to February.
This morning the UK gets consumer confidence (GfK reading) with retail sales released later in the day (retail sales ex auto fuel are seen easing to 5.6% yoy from 7.2% previously)
Germany releases the IFO survey with the business climate reading expected to fall to 94.2 from 98.9 while the expectations reading is seen at 92, 7.2 points lower.
The US gets the final U. of Mich. Survey along with Pending home sale figures for February. Fed Daly, Waller, Williams and Barking are on speaking duties.
Market Prices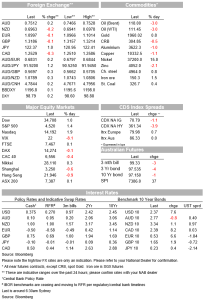 Read our NAB Markets Research disclaimer
For further FX, Interest rate and Commodities information visit nab.com.au/nabfinancialmarkets