Markets Today: ECB, calibrating not tapering
As expected, the ECB will moderate its Pandemic Emergency Purchase Program (PEPP) bond buying pace in Q4 with its December meeting now a key event. China makes historic sale of oil reserves weighing on oil prices.
Todays podcast
Overview The Struggle Within
S&P 500 extends rout to a fourth consecutive day
As expected, ECB will moderate PEPP buying pace in Q4
UST curve bull flattens. Solid 30y auction playing a hand
China makes historic sale of oil reserves WTI/Brent -1.9/-1.8%
USD broadly weaker. Euro and AUD little changed
Coming Up: NZ credit card, UK GDP,US PPI, CA employment
The Struggle Within– Metallica
US equity markets have closed in the red again with the S&P 500 extending its decline to a fourth day in a row. The UST curve bull flattened with a solid 30y auction contributing to move lower in longer dated yields. The USD weakness evident in our afternoon session yesterday accelerates overnight with greenback failing to show any safe haven demand, Euro and AUD are little changed. As expected, the ECB will moderate its Pandemic Emergency Purchase Program (PEPP) bond buying pace in Q4 with its December meeting now a key event. China makes historic sale of oil reserves weighing on oil prices.
US equity markets remain on struggle street with the S&P 500 recording its fourth consecutive day of decline, down 0.46%, the NASDAQ closed -0.25% and the Dow was -0.43%.  Buying the dip is not yet coming to the rescue with investors seemingly conflicted by mixed data signals while uncertainties over the economic impact from the delta variant outbreak are restraining investors appetite for risk, notwithstanding ultra easy accommodative policy by the Fed and other central banks. EU equities closed mixed with the Euro Stoxx 600 index modestly lower at -0.06%
Overnight the big event was the ECB meeting and as expected the Bank confirmed it intentions to moderate the PEPP bond buying pace in Q4. Lagarde justified the decision by saying the euro region's "increasingly advanced" rebound could be maintained with less monetary help. Higher vaccination rates and better market conditions (read: lower bond yields and a lower EUR exchange rate than earlier in the year) were noted as key supporting factors for the decision.  The ECB president also stressed that the decision was not tapering, but rather a recalibration consistent with the PEPP's envelop . Lagarde didn't put an exact figure on the new monthly bond buying pace but Reuters reported it will be a still hefty €60b-€70b per month pace, giving the ECB some flexibility to adjust to changing market conditions.
New staff forecasts showed a stronger near-term outlook for prices and growth, however Inflation is seen averaging only 1.5% in 2023, below the Bank's 2% target. The PEPP programme is due to end in March next year and President Lagarde flagged the December meeting as the one at which the Governing Council will decide how to transition from this programme to the ECB's other bond buying programme (the Asset Purchase Programme).  Analysts expect the Asset Purchase Programme, which is currently running at €20b per month, will be expanded when the Pandemic bond buying programme comes to an end, to smooth the adjustment for the market.
On first impression the ECB's upbeat assessment of the EU economy and calibration of the PEPP should have elicited a risk positive outcome, providing an uplift to the Euro and core EU yields. But with inflation projection below the 2% target , Lagarde also noted that unlike the Fed and BoE among other Central Banks, the ECB does not have a plan to end its bond buying programme. The Delta outbreak was also noted at a cause for concern.
In the end reaction to ECB decision resulted in a move lower in core EU yields with 10y Bund closing the day 4bs to -0.36%. That said other core yields also moved lower with the UST curve bull flattening overt the course of the night. A solid 30y bond auction was a factor at play and arguably the move lower in oil prices likely played a hand too (more below). The 30y bond auction printed at  1.91%, almost 2 basis points lower than the bonds' yield in pre-auction trading, remarkably too Bloomberg noted  dealers were awarded their lowest-ever share – just 13.1% – as investor demand surged with indirect bidders (which includes foreign central banks) showing big appetite for the bond.
Meanwhile the move lower in oil prices ( down 1.9%/1.8%) has been attributed to the news that China made an unprecedented intervention in the market, releasing crude from its strategic reserve for the first time with the explicit intention of lowering prices. China's National Food and Strategic Reserves Administration said in a statement the country had tapped its giant oil reserves to "to ease the pressure of rising raw material prices.". Oil prices briefly rose earlier in the session after a US government report showed crude stockpiles fell as production tumbled the most on record last week due to disruptions by Hurricane Ida.
Moving on to currencies the USD is modestly weaker, down 0.15/0.2% in index terms, showing little safe haven demand in spite evidence of risk aversion in equity markets . JPY and CHF, the G10 safe havens are up between 0.45% and 0.55% with GBP sandwiched in between. Meanwhile the Eure and AUD are little changed, up a few pips at 0.7368 and 1.1826 respectively. NZD has done a little bit better, up 0.17% and now trades at 0.7105.
Finally, in terms of data releases, US jobless claims fell more than expected to 310K from 345K, well below the consensus, 335K. The positive reading was countered by potential disruptions caused by Hurricane Ida. So hard to read too much into it.
Coming Up
This morning New Zealand gets credit card spending data for August and later today the UK gets monthly GDP (0.5 %mom vs 1% prev.), trade and Industrial production (0.4%mom vs -0.7% prev.) figures, all for July while Germany publishes its final CPI figures for August  (0% exp., unchanged)
Tonight, the US publishes PPI figures for August (0.6%mom vs 1% prev) and Canada releases labour market data, also for August.
Canada August net change in employment is seen at 66.8k vs 94k prev. while the unemployment rate is expected to ease two tenth to 7.3%.
Fed Mester speaks virtually at a Bank of Finland conference on monetary policy
Bloomberg notes President Biden may make his choice this week on whether to renominate Fed Chair Jerome Powell to a second term
Market Prices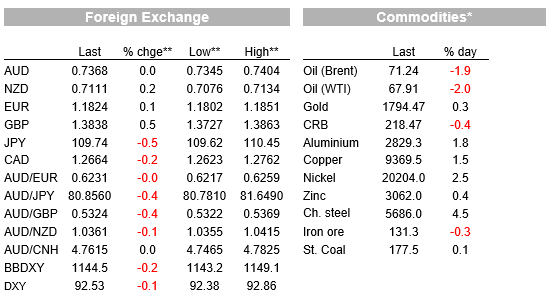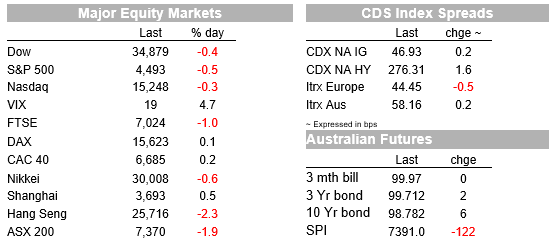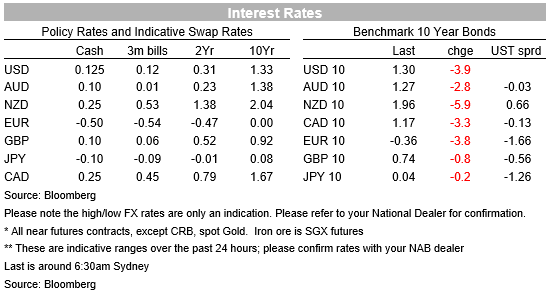 For further FX, Interest rate and Commodities information visit nab.com.au/nabfinancialmarkets