Markets Today: Equities rebound despite "new cold war"
Equities have staged a broad-based rebound and are expected to continue as markets reopen in the US and UK.
Today's podcast
Overview: It's oh so quiet
European equities and US futures follow APAC positive lead and close with decent gains
FX and rates have a quiet night with UK and US on Holidays
China puts a positive spin on the proposed Hong Kong Security law
Oil prices edge higher as Russia confirms it has reached its pledged output cuts
PM Morrison speak on industrial relations today. ECB Lane speaks tonight
It's oh so still, shh shh, You're all alone
Shh shh And so peaceful until… – Björk
European equities followed the positive lead from Asia and ended the day with solid gains. All main US equity futures close the session with gains over 1% while FX and rates have a quiet night with the UK and US on holiday. Oil prices edged higher as Russia confirms it has reached its pledged output cuts.
No news is good news for equity investors
We have had a light 24 hours in terms of news flow, but equities had a good night. US-China tensions continue to simmer in the background, but equity investors appear more interested on the prospect of economies reopening around the globe. On this score and as expected Japan ended its nationwide state of emergency, Spaniards have returned to bars in Madrid wearing masks, England will reopen some businesses on June 1 and the US recorded a 1.3% rise in infection, below the one week average.
Meanwhile on the US-China tension front
China's foreign ministry commissioner in Hong Kong tried to ease concern over the new Hong Kong security law. Speaking to journalist and diplomats, commissioner Xie Feng said that the new law aims at improving the business environment through the restoration of calm following a year of unrest. The commissioner noted that the legislation will not change the one country, two systems policy, Hong Kong capitalist system, high degrees of autonomy, nor will it change the legal system in Hong Kong SAR, or affect the independent judicial power, including the right of final adjudication exercised by the judiciary in Hong Kong". Important questions around the scope of the law remain unanswered; however the comments were enough to prevent another big fall in the Hang Seng index, which clawed its way back into positive territory after early losses.
European equities embraced the positive lead from Asia with major indices closing the day with gains over 2%. A bailout for Lufthansa (+7.5%) fuelled gains in travel stocks, with Airbus and Fraport jumping 8.5%. Bayer AG jumped 7.8%.following news the company has reached verbal agreements to resolve a substantial portion of an estimated 125k US cancer lawsuits related to the Roundup weedkiller.
Broad gains in European equity markets were also supported by a cautiously optimistic German Ifo report. German business expectations rose to 80.1 vs. 75.0 exp, providing a glimmer of hope for equity investors. "Sentiment among German companies has recovered somewhat after a catastrophic few months," Ifo chief Clemens Fuest said in a statement. Still, "many companies are still pessimistic about their business. The gradual easing of the lockdown offers a glimmer of hope."
US equity futures have also embraced the positive vibes evident in European and Asian markets with all three main futures ending the day with gains over 1%.
In contrast
Currency and rates markets have been quiet with little movement. Market holidays have seen little movement in US Treasury futures and the USD is little changed in index terms. The NZD has traded a 25pip range and sits around 0.61. The AUD has traded a 30pip range and sits around 0.6545.
Following decent gains last week
Oil prices have edged a little higher overnight with Brent up 1.1% and WTI 1.41%. News of economies reopening around the globe has helped expectations of an increase in demand while global supply continues to decline. In a statement overnight, Russia's Energy Minister Alexander Novak said producers around the globe have lowered global oil supply by 14-15m b/d so far with Russia reaching the output level pledged in the OPEC+ deal, cutting 2m b/d.
Bank of France Governor Villeroy de Galhau signalled that more ECB policy stimulus was on its way, saying that with inflation low there is room to innovate and act "rapidly and powerfully". The ECB meets next week and the market expects to see further easing, alongside some updated economic scenarios. Villeroy de Galhau fired a shot against the recent decision of Germany's constitutional court, suggesting that the constraint of the capital key was not necessary for the emergency bond buying programme and transmitting monetary policy to different members of the euro area is just as important as the policy itself
Coming up
Today PM Morrison speaks and NZ gets trade data for April. Tonight ECB Lane gives a speech at a virtual conference and the US gets Consumer Confidence (May) and New Home Sales (Apr).
PM Morrison addresses the National Press Club a 12.30 AEDT delivering a speech on industrial relations. The PM will unveil the coalition's reform plans on training and industrial relations with funding more closely linked to skill gaps based on what businesses need.
ECB Chief Economist Philip Lane speaks on the economic outlook at a virtual IIF conference (22.45 AEDT). After last week's comments Lane may expand on the rationale for the ECB to do more given the economic outlook and perhaps hint at tools the Bank may look to use.
Market prices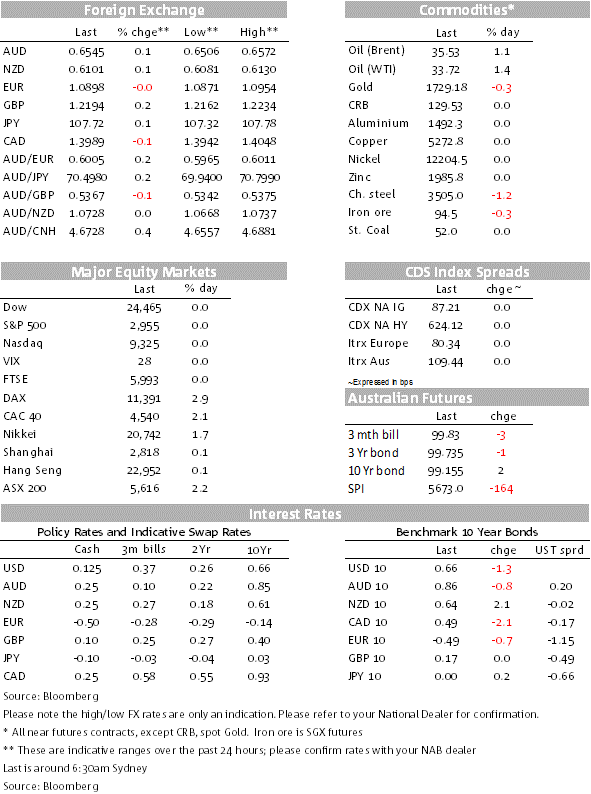 For further FX, Interest rate and Commodities information visit nab.com.au/nabfinancialmarkets
More from NAB