Markets Today: Inflation, inflation, inflation. It'll pass says ECB, again
US equity continue to march to their own beat, oblivious to softer data releases and volatility in rates markets driven by Central Bank policy uncertainty.
Todays podcast
Overview I don't believe you
Solid earnings keep US equities humming and oblivious to CB dynamics
ECB keeps policy setting unchanged, but admits concern over rising inflation and…
Lagarde's unconvincing pushback on market pricing rattles EU rates and the euro
US Q3 GDP softer than expected amid a Delta and chip slump in consumption
USD broadly weaker with EU currencies leading the outperformance
5yr UST lead rise in UST yields, back end flattening of the curve continues
Coming Up: AU Sep/Q3 retail sales, EU Q3 GDP and Oct CPI, US PCE (Sep), Chicago PMI
The passion's there, So it's gotta be right
Right? No I don't believe you – Pink
Solid earnings reports continue to propel US equities performance, notwithstanding softer than expected Q3 US GDP print, essentially old news largely reflecting a known Delta and chip slump in consumption. ECB left its policy setting unchanged as expected, but acknowledged concerns over rising inflation while Lagarde's unconvincing pushback on market pricing, rattled the EU rates market and propelled the Euro higher. The USD is broadly weaker with the AUD and NZD eking out small gains. The 5y/30y UST curve flattening continues.
US equity continue to march to their own beat, oblivious to softer data releases and volatility in rates markets driven by Central Bank policy uncertainty. The NASDAQ has the led the US equity gains overnight, up 1.39% while the S&P 500 closed 0.98% higher. Consumer discretionary shares have the led the sectors gains within the S&P 500 with Ford outshining Tesla on the day, after the automaker boosted its full-year profit forecast and restored its dividend, Ford shares gained more than 8% on the day with Tesla adding another 3% to its recent gains. Ford share are now close to 90% higher year to date. Meanwhile Caterpillar (3.69%) beat profit estimates and said demand is looking strong into 2022, notwithstanding supply-chain snags. Earlier in the session, Europe's Stoxx 600 Index closed 0.2% higher, with technology shares gaining the most, while travel stocks fell.
Last night ECB meeting was not expected to deliver major surprises, given this was meeting without new forecast. The Central Bank retained its policy setting and guidance unchanged with the pace of its emergency bond purchases programme (PEPP) unchanged, ahead of the December meeting where it is expected to formally confirm the programme will end I March next year as currently planned. Indeed , Lagarde noted in the press conference that "At this point in time, I expect PEPP to end at the end of March," adding that "Whether we will use the full envelope or not is to be seen." . More interesting for markets, Lagarde acknowledged that inflation was major point of discussion at the meeting recognizing the rise in price pressures will last longer than originally anticipated before fading. Notwithstanding concerns over whether EU inflation will remain above 2% in 2023, Lagarde noted that "Our analysis certainly does not support that the conditions of our forward guidance are satisfied at the time of lift off as expected by markets, nor any time soon thereafter," but then somewhat undermining confidence on the Bank's assessment she said "Are markets ahead of themselves? Not for me to say.
The EUR and European bond yields moved higher during Lagarde's press conference, with some describing her pushback against the market's rate hike pricing as 'half hearted'.  Reaction to Lagarde's lifted the euro, up 0.7% with those gains retained into the NY close, the pair now trades at 1.1682 . Pricing of ECB rate hike next year also moved higher with the September 22 meeting now seen at -0.33%, 5bps lower on the day and implying a decline of 17bps from the current cash rate of -0.5%. The 10-year German yield is 4bps higher, at -0.14%, near a 2½-year high, while the bigger mover has been Italy, which has seen its yields move higher by as much as 12bps.  Italy has been a key beneficiary of the ECB's huge bond buying programme.
The 2y rate Moving to the US Treasury market, the 5y tenor has been the big mover, up 4bps to 1.189%. is unchanged while longer dated yields are a tad higher US 10-year rate is 2bps higher overnight, to 1.57% and the 30y is 1bps higher at 1.961%. The flattening in the 5y30y curve has continued, down 3bps o the day to 77bps, after trading at 91bps at the start of the week.
In currencies, the USD is broadly weaker on the back of EUR strength and improved risk appetite .   The BBDXY USD index is down 0.49% and trading at its lowest level in a month.  European currencies have been the major gainers overnight, benefiting from the strength in the EUR, while the NZD has pushed up to 0.72, about 0.43% higher than this time yesterday.  The AUD has increased 0.33%, it traded to an overnight high of 0.7556, before settling down to 0.7544, where it currently trades.
Turning to developments in Australia, the RBA decided not to buy the April 2024 Yield Curve Control bond yesterday even though it was trading at around 0.23%, well above its 0.1% target.  The RBA's decision not to enforce the target, coming off the back of Tuesday's higher-than-expected core inflation number, led to renewed speculation the RBA may change its forward guidance at next week's meeting and drop the Yield Curve Control policy.  With the RBA not defending its yield target yesterday, the April 2024 bond exploded 33bps higher, to 0.54%.  The RBA is now in a difficult position, because the market clearly sees its forward guidance, that it is unlikely to raise its cash rate until 2024, as not credible, so even if it defends the target in the future, the market may continue to take it on.  All eyes are on today's 1:15pm announcement to see whether the RBA intervenes today, with inaction likely to see another lurch higher in yields.
Finally on US economic news, the US economy expanded at a lower than expected pace in Q3, 2% annualised vs 2.6% expected and well below the super charged rate of 6.7% in Q2 . The slowdown was largely attributed to sharp slowdown in personal consumption, which grew at just a 1.6% pace after a rapid 12% jump in the prior period. Supply bottlenecks, rising prices and the covid delta virus spread weighed on both goods and services spending in the quarter. US initial jobless claims fell to a new post-Covid low, at 281k, with employers reluctant to let go of staff amidst an extremely tight labour market.
Coming Up
This morning New Zealand gets its monthly consumer confidence reading and Australia releases Q3/September retail sales figures along with private sector credit numbers (September). Labour market figures (September) are out in Japan along with Industrial Production and Tokyo CPI (core 0.3% you exp. vs 0.1% prev.).
Our economists expect September retail sales in Australia to print at 1.5%mom , a big lift relative to the 0.4% pencilled in by consensus. This optimistic view is largely driven by NAB's internal data pointing to a trough in spending in August and a pick-up in activity thereafter. Australia's Q3 retail sales figures (volume estimate) are the first GDP partial in what is expected to be a very weak Q3 GDP print due to protracted lockdowns in the quarter. NAB expects sales volume to be down 4.8%q/q (consensus at -5.1%), such a fall would be consistent with NAB's expectations that Q3 GDP will fall 3.5%q/q, ahead of a rebound of 2% in Q4.
It's a busy day of data releases in Europe with the Euro Area preliminary Q3 GDP (2.1%q/q exp. vs 2.2%prev) and preliminary October CPI (core 0.5%mom exp. vs 0.5% prev.), the releases to watch. Later tonight, the US gets personal spending and income data for September including PCE deflators (core 0.3%mom exp. vs 0.3% prev.) with the Chicago PMI (63.5 exp vs 64.7 prev.) and final Michigan Consumer Sentiment survey the other releases to watch.
US earnings reporting highlights – ExxonMobil, Chevron
Market Prices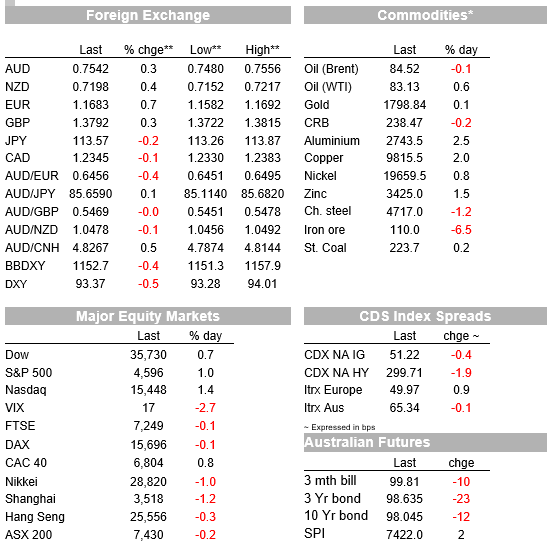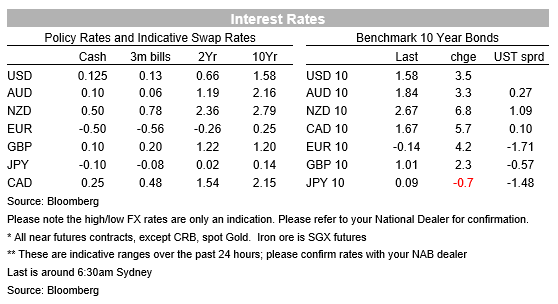 For further FX, Interest rate and Commodities information visit nab.com.au/nabfinancialmarkets