Markets Today: Markets lacklustre
It's been one of the quietest sessions for some time.
Today's podcast
Overview: The taxman
Yellen's articulation of tax pans, FOMC Minutes, having limited market impact so far
US equities narrowly mixed, US yields a smidge higher as is the USD; AUD back to ~0.76
Eurozone final PMIs revised up from preliminaries
UK market underperformance continues, EU says link from AstraZeneca vaccine to blood clots
Powell speaks tonight on IMF panel on global economy; ANZ Business Survey this morning
Should five per cent appear too small, Be thankful I don't take it all, 'Cause I'm the taxman, yeah I'm the taxman – The Beatles
Post Easter trading remains essentially featureless, with nothing for market to really get their teeth stuck into and participation doubtless on the low side given the school holidays and the likely absence of a fair few risk takers this week. FOMC minutes have come and gone without a great deal of fanfare though bond yields have ticked higher, while currencies and equities are no-plussed (as in the North American definition of unperturbed).  Treasury Secretary Janet Yellen's articulation of tax raising plans to pay for the Biden administration's infrastructure spending plans is through a source of consternation in some quarters, as are the doubts about how quickly it might be possible to roll out spending plans and whether as big as the proposed $2.2tn.
US equities have just closed with the S&P500 up a measly 0.15% (so essentially two flat days after two prior days of record daily closes) with the sector performance indicative of a bit less optimism about an early additional boost to growth from infrastructure (e.g. the materials subsector is down 1.75%, alongside which commodity prices are lower (e.g. most base metals).  IT is the best performing sector, +0.54%, despite which the NASDAQ has slightly underperformed the S&P, closing -0.1%.
In a 17-page report, US Treasury Secretary Yellen has outlined details of the proposed changes that will help pay for Biden's $2.25tn infrastructure and other spending package. Alongside the planned rise in the US corporate tax rate from 21% to 28%, a proposed 15% minimum tax would be imposed on both foreign and domestic earnings, boosting tax paid by removing the incentive for companies to shift investments overseas. However, the plan has been softened from the one Biden campaigned on, with the minimum tax only applying for companies with income exceeding $2b (previously $100m) and some tax credits would also apply, meaning that just 45 companies would be liable for the tax – "the most aggressive tax avoiders", according to the US Treasury.
There is no guarantee that the tax-and-spend plan passes, with some Democrats opposing the plan as it stands. West Virginia Senator Manchin, for one, saying he opposes a corporate tax rate above 25% and earlier in the week he said he knew of 6 or 7 Democrat who shared that sentiment. So while action taken in Congress earlier this week would allow for the so-called reconciliation process to be used more than once in any one fiscal year (meaning it could pass with a simple majority in the Senate, as was the case with the $1.9tn covid relief plan) there is no guarantee this latest fiscal proposal can get up without either being softened in terms of the proposed tax rises and/or without some Republican support.
As for the (March 16-17) FOMC Minutes, there was really nothing new to glean from what has been said in spades in recent weeks, namely that "Participants noted that it would likely be some time until substantial further progress toward the Committee's maximum-employment and price-stability goals would be realized" and that "The path of the federal funds rate and the balance sheet depend on actual progress toward reaching the Committee's maximum-employment and inflation goals". Policy makers still agreed that the economy was far from their long-run goals and "the path ahead remained highly uncertain." They also saw "considerable risks to the outlook" from the pandemic.
One point of interest, more for the money market more so than the bond market, was commentary noting the potential for downward pressure on money-market rates, with a suggestion that "it might be appropriate" to make adjustments to administered rates at upcoming meetings, or even between gatherings to ensure the Fed Funds rate remains "well within the target range." US 10-year Treasuries are 2.5bps higher post the FOMC Minutes at 1.675%, though other than the above money market snippet, it is hard to point to anything tangible in the Minutes as responsible for the move up. Yields come into the NY close sitting pretty much in the middle of what has so far been this week between an effective 1.63-1.74% range.
In currencies, after a modest down day for the USD on Tuesday, Wednesday has seen a reversal with the Bloomberg BBDXY index currently up 0.2% on this time yesterday with currency losses led by GBP, AUD and NZD, each down by 0.6-0.7%, AUD/USD to a low of 0.7601 (0.7613 now). Easing in commodity prices might have something to do with the softer AUD and NZD, though on the latter note than NZ commodity prices rose to a new record high in March, as reported yesterday.
GBPs underperformance appear to reflect a further correction from  recent period of strong outperformance buoyed by rapid vaccine roll-outs (in sharp contrast to the EU) and where the news flow on this front has been less positive, the UK now ceasing administering the AstraZeneca vaccine to people under 30 and according to a Reuters tweet, the EU just announcing that it see a link between this vaccine and the rare blood cuts which have been capturing news headlines in recent days and weeks. The AstraZeneca vaccine is the mainstay of the UK's vaccination programme.
EUR/USD is little changed implying EUR outperformance on most cross-rates, and where one supportive influence has been final Eurozone service sector PMI readings which for the most part came in stronger than the preliminary readings (as a result of which the pan-Eurozone Composite reading is now put at 53.2 up from a 'flash' 52.5).
Finally, in other economic news the US trade balance for February came in at a new nominal record of -$71.1bn up from last month's (prior record) -$68.5bn – a reminder that 'twin deficit' headwinds for the USD are blowing both from the budget deficit and external trade accounts.
Coming up
ANZ's preliminary April Business Survey is at 11:00 AEST
Fed chair Powell takes part in an IMF panel on the global economy (02:00 AEST Friday)
German factory goods orders for February; the ECB's account of its March 10-11 policy meeting
US weekly jobless claims (expected at 690k vs 719k last week)
Market prices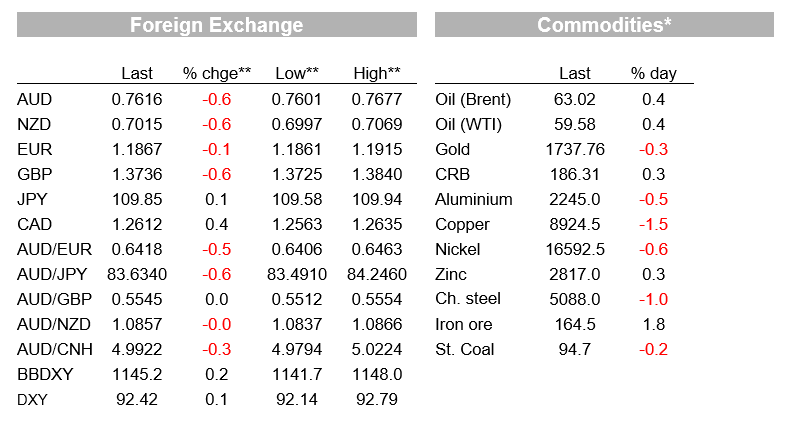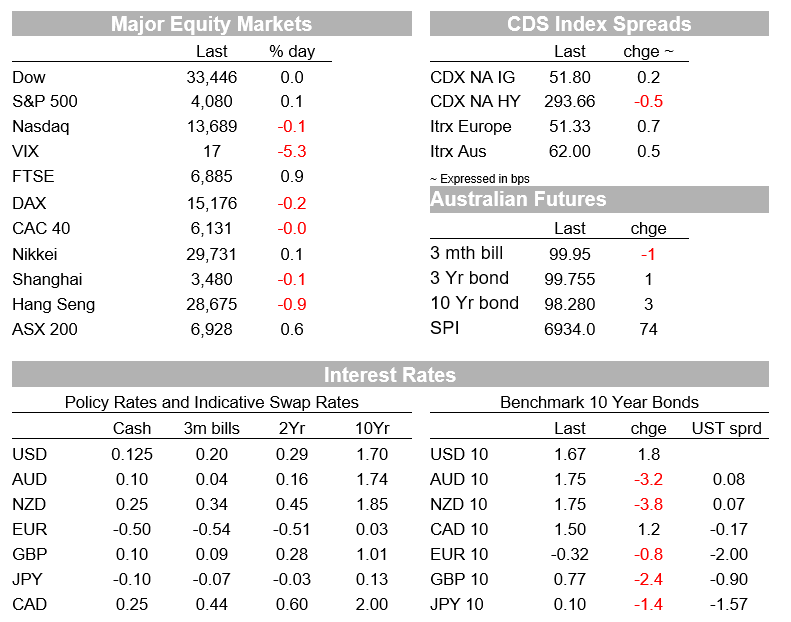 For further FX, Interest rate and Commodities information visit nab.com.au/nabfinancialmarkets