Markets Today: More central bankers wanting to ease off the pedal
Three central bankers argued for a more rapid tightening of monetary policy overnight.
Today's podcast
Overview: Tight A$
AUD starts the APAC Friday close to the all too familiar  0.7750 level
GBP outperforms after BoE's Vlieghe outline a scenario where rates rise early next year
US data mostly on the strong side of expectations
10-year Treasuries back at 1.60% – in FX lifting USD/JPY to near Y110.
US April PCE deflator the main data focus offshore tonight; nothing much down here
Tight a$ you can get it, Tight a$ got it made, Upright's alright but if ya can't stand the heat, You better get back in the shade – John Lennon
So hands up who knew John Lennon wrote a song about the Aussie dollar? Truth is he didn't, but the title of this 1973 rockabilly-style song featured on Mind Games was, my in-depth research tells me, a joke on the lyrics that start out saying various things were "tight as…" then later in the song became the slang term, "tight ass".   But since AUD/USD has opened in APAC every day this week somewhere between 0.7731 and 0.7752 (and in the last three days between 0.7752 and 0.7745) it is an irresistible choice this morning. It's a good song too.
The bigger currency moves overnight have been GBP (up) and JPY (down) the former after a member of the BoE MPC outlined a case for higher rates early next year, and the latter after US 10-year Treasuries traded back above 1.60%, pulling USD/JPY back close to 110. US data, including core durable goods orders and weekly jobless claims, have been supportive of the slight back-up in yields while doing no harm to stocks, though the highly interest rate sensitive NASDAQ has underperformed other indices, closing flat versus a 0.1% rise for the S&P500 and 0.4% lift to the Dow.
First to overnight central bank speak. While stressing it was only in the context of an upside scenario relative to his base case, the unpronounceable (to me) BoE MPC member Gertjan Vlieghe said that "It would probably take until the first quarter of next year to have a clear view of the post-furlough unemployment and wage dynamics, so a rise in Bank Rate could be appropriate soon after, along a slightly steeper path than in my central case". The fact that Vlieghe has been  considered one of the more dovish members of the MPC marked his comments out as more significant than otherwise. GBP/USD is 0.6% higher as a result, back above $1.42 (and to near 0.5450 on AUD/GBP).
From the Fed, Dallas Fed President Kaplan, one of the few Fed officials to openly call for a discussion around tapering, co-authored an article overnight arguing that supply factors were weighing on employment and "these factors may not be particularly susceptible to monetary policy."  The implicit message seemed to be that the Fed shouldn't be distracted by the shockingly low payrolls number last month, given it was likely reflective of weakness in labour supply, rather than demand.
And then from the ECB, a speech from Bundesbank President Jens Weidmann was mostly about fiscal policy, arguing that fiscal rules shouldn't be thrown overboard even though fiscal support shouldn't be unwound prematurely, but he also expressed concerns about monetary policy being pushed too far to tackle income distribution.
And finally ECB Board member Isabel Schnabel (the traditionally hawkish German central banker) said that the ECB is analysing the side effects of unconventional monetary policy (she also note that the EU Treaty requires (my emphasis) the ECB to take climate change into account).
On the data front, US durable goods orders for April were weaker than expected in headline terms, -1.3% against 0.8% expected, but the core non-defence ex aircraft measure was well above expectations 2.3% (1.0% expected). Chip shortages are reported to have impacted some sector dragging the headline lower. Weekly US jobless claims again fell by more than expected (406k from 44k and 425k expected) further confirmation of the reluctance of firms to let go of staff. And then within the slightly downward revised second estimate of US Q1 GDP (from 6.5% to 6.4%) the PCE deflator rose by 2/10% versus the Advance estimate, to 2.5% from 2.3%. April numbers are due tonight. On the downside, the Kansas City Fed Manufacturing Activity reading, 26 from 31 an below the 30 consensus estimate while April Pending Home Sales fell by 4.4% against 0.4% expected, seemingly reflecting the lagged impact of higher mortgage rates earlier in the year. They are though still up 53.5% on a year ago, a number obviously flatted by base effects from April 2020.
In markets, a relatively quiet night for equities with a mixed sector performance in the S&P 500 within its 0.12% overall gain (7 up, 5 down) with industrial faring best (+1.2%) and utilities, consumer stables and IT worse (all down between 0.5% and 0.7%). European stocks were also quite narrowly mixed.
In bonds, the back up in Treasury yield was well underway before the data but did make its day highs of 1.62% at 10-years post the releases, before settling back to be 1.6050% as of NY close. Earlier European benchmark bonds were 2-3bps higher at 10-ysr, one exception being a 6bps rise in UK gilts following the BoE comments noted above.
In FX, AUD receives no love from the strengthening in the CNY in defiance of recent years' history. USD/CNH traded to as low as 6.37, so the RMB is coming into the end of the week over 1% stronger. Overnight, media reports say the PBoC held an ad hoc meeting with other government bodies and major FX market players and issued a statement that the exchange rate can't be used as a tool to stimulate exports via depreciation nor to offset impact of rising commodity prices via appreciation. The PBOC also said that the meeting concluded the current forex market is balanced overall, while many market and policy factors are in play and that two-way fluctuations in the Yuan exchange rate are normal while warning that Beijing will firmly crackdown on malicious manipulation of forex markets and malicious behaviors for creating one-way expectations. The Chinese central bank also said that it continues to guide firms and financial institutions to establish the "risk-neutral" mentality, while enterprises and financial institutions should actively adjust to two-way fluctuations of CNY rate; firms should not bet on Yuan rate appreciation or depreciation.
The USD overall is little changed (DXY -0.05%) with GBP (+0.6%) and JPY (-0.6%) neatly topping and tailing the G10 scoreboard. EUR/USD is fairly flat versus Wednesday's close, as is AUD, while the SEK, CAD and NOK are all up, by between 0.% and 0.5%.
Coming up
In our time zone, the only releases are ANZ's May NZ Consumer Confidence, Japan Unemployment and Tokyo May CPI, none of which should be market moving
This evening, April US Personal income, Spending and especially the PCE deflators will rate a mention (core PCE forecast to jump to 2.9% from 1.8%).
There is also Advance April goods trade, the Chicago PMI and final University of Michigan Consumer Sentiment readings (where the 5-10 year inflation expectations reading in the preliminary release was 3.1%).
Sometime Friday, President Biden is set to unveil what will reportedly be a $6tn Budget for FY202 and which will have deficits of at least $1.3tn for many years to come.
In Europe, the European Commission Consumer, Economic , Industrial and Services Confidence readings will be worth a look.
Market prices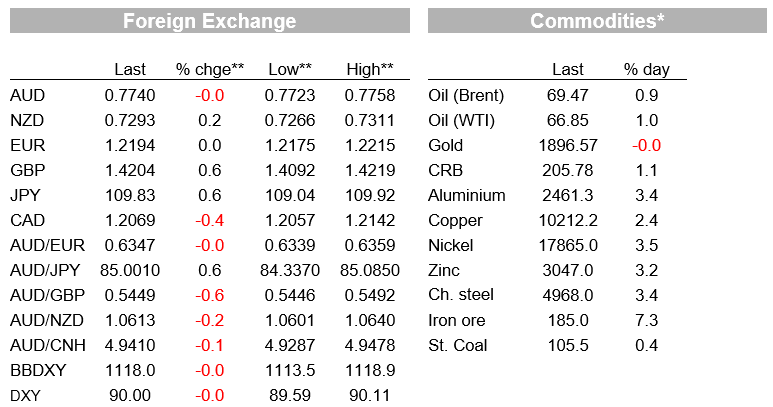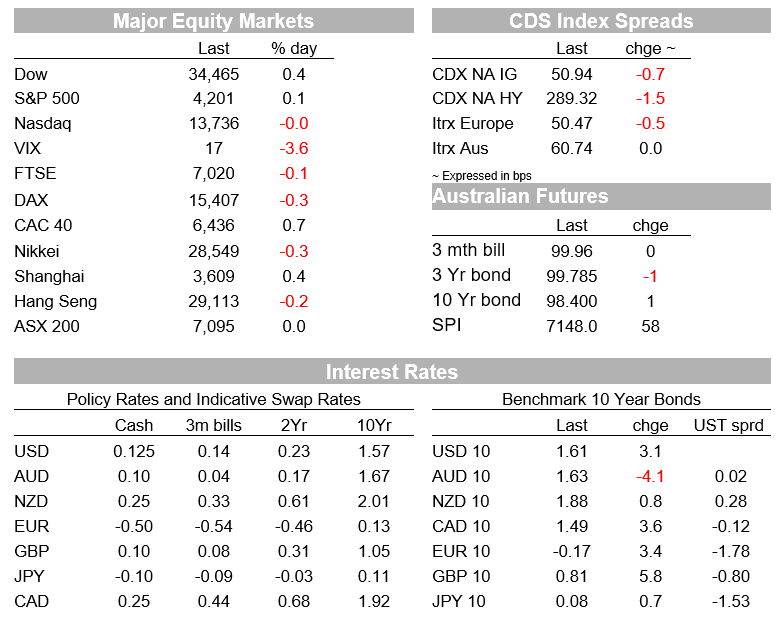 For further FX, Interest rate and Commodities information visit nab.com.au/nabfinancialmarkets