Markets Today: Peace hopes fade, European inflation soars
ECB Lagarde warning of supply and uncertainty shocks from the Ukraine war.
Todays podcast
Overview Zooropa
EU and US equities retreat
German and Spanish inflation highest since mid 1980's
Front end yields lead move up in EU core yields. UST yields lower
ECB Lagarde talks about gradualism. Markets brings forward rate hike expectations
Russia plays down peace talks progress. Fierce fighting continues
Germany and Austria formally trigger plan to ration gas consumption
USD broadly weaker. EUR up on ECB pricing, JPY on BoJ defence of YCC. AUD unchanged
Coming up: AU: Job Vac., Building approvals and Credit, US PCE and jobless claims
Don't worry baby, it's gonna be alright
Uncertainty can be a guiding light – U2
It has been all about Europe overnight. Russia has played down Ukraine peace talks progress while fierce fighting continues. Spikes in Spanish and German inflation have instigated a rethink on ECB reaction function with ECB Lagarde warning of supply and uncertainty shocks from the Ukraine war and talks about gradualism in policy moves. Front end yields lead move up in EU core yields as ECB rate hike expectations are brought forward while in the US, the belly leads a decline in UST yields. Against this backdrop, EU and US equities retreat while the USD is broadly weaker with the euro and yen higher on ECB pricing and BoJ defence of YCC. AUD is little changed, just above 75c.
We continue to think that it pays to watch what Russia does rather than what it says. After optimistic soundbites 24 hours ago from Moscow's chief negotiator, Vladimir Medinsky, describing Ukraine talks as constructive and suggesting the possibility of a meeting between Russian President Putin and his Ukrainian counterpart, Zelensky. Overnight, Kremlin spokesman Dmitry Peskov said latest talks didn't represent a turning point in the conflict adding that "We can't point to anything particularly promising.". Meanwhile there has been little indication of war de-escalation with Ukraine forces reportedly fight off Russian advances in the Donetsk and Luhansk areas of the Donbas region including the strategically important city of Mariupol.
Amid a lack of any material progress in peace talks, Germany and Austria have formally triggered the start of a contingency against any possible reduction in Russian gas deliveries . This is essentially a plan to ration gas consumption although for now Russian supplies remain uninterrupted. Germany's economy minister, Robert Habeck, said "There is currently no shortage of supply, but we must increase preparedness and brace for the case of escalation by Russia,"
Ahead of the EU wide inflation readings due for release on Friday, overnight Germany and Spain recorded their largest price increases since reunification in the early 1990s (or 1985 prior to unification). Spain's inflation jumped 9.8% yoy from 7.6% previously vs 8% expected while German inflation leaped to 7.6%yoy from 5.5% previously and 6.8% expected.
Speaking in Cyprus after the data releases, ECB president Lagarde warned that Russia's Ukraine invasion poses "significant risks to growth" and has introduced "considerable uncertainty" into the economic outlook. At the same time, sticky energy costs, increasing food prices and persistent bottlenecks "are likely to take inflation higher," she said. Against this uncertain backdrop, Lagarde said that the ECB needed to emphasize "the principles of optionality, gradualism and flexibility,". Adding that "Gradualism means that we will move carefully and adjust our policy as we receive feedback on our actions."
Reaction to the inflation data and Lagarde's comments triggered a selloff EU yields led by the front end of the curve. 2y Bund yields jumped 6.4bps to -0.125% while 5y yields gained as much as 12bps to 0.55% before closing at 0.48%. 10y Bunds closed 1bps higher to 0.65% while 10y Italian BTPS climbed 1bps to 2.13%. Money markets briefly priced in 50bps of tightening from the ECB by October, before easing back to 45bps at the close (4.5bps higher on the day). A cash rate of 0.045% is now priced by the end of the year, up by 6bps in past 24 hours.
10y UST yields are trading at 2.34%, 4.4bps lower over the past 24 hours with bigger declines since in the 5y part of the curve, down 6bps to 2.44%. A day after briefly inverting, the US 2s10s yield curve has steepened up a touch, to 3.5bps.  The market prices the 2s10s curve to fall as low as -45bps in a year's time, a reading which historically would been associated with a subsequent recession.  Writing in a Bloomberg opinion piece, former NY Fed President Bill Dudley said the Fed was well behind the curve, making a hard landing "virtually inevitable."
Moving onto FX land, the USD is broadly weaker with NOK at the top of the leader board, +1.19% fuelled by yet another rise in oil prices, Brent and WTI up around 2% and 3% respectively. Yesterday JPY was a big mover with most of its gains against the USD retained overnight, a decline in 10y UST yields helping JPY as the BoJ resolutely defends its YCC policy. The BoJ has conducted multiple interventions in the bond market this week, previously offering to buying unlimited amounts of bonds at a fixed rate of 0.25% to enforce its 10-year yield target.  The 10-year Japan bond rate edged down to 0.23%, now a few basis points below the BoJ's tolerance threshold of 0.25%. USD/JPY now trades at 121.81, down 0.88% over the past 24 hours.
The euro has been lifted on ECB repricing and now trades at 1.1159, up 0.67% over the past 24hrs. Meanwhile the AUD has been a bystander, little changed and now trading at 0.7513 . Against a weaker USD backdrop, the NZD has pushed up to 0.6975 this morning, having almost touched 0.70 overnight.
European equities fell on Wednesday with Stoxx 600 Index retreating 0.4%, snapping a three-day winning streak. Energy and mining outperformed as oil, iron ore and aluminium prices rose. Meanwhile in the US,   the S&P 500 extended declines in afternoon trading ending the day down 0.63% while the tech-heavy Nasdaq 100 fell  1.21%.
In US economic data, the US ADP employment survey showed a 455k increase in jobs in March, close to market expectations.   ADP has had an unreliable track record as a predictor of payrolls over the past few years and there was no market reaction.  The consensus is for a nonfarm payrolls gain of 490k, although Pantheon Macroeconomics warn that Homebase data points to a much weaker result, at face value closer to zero
Coming Up
This morning Japan releases industrial production figures for February and Australia gets job vacancies, building approvals and housing credit figures, all for February. After midday Sydney time focus shifts towards China with the March Manufacturing PMI release. Market looking for an ease in the headline reading from 50.2 to 50.
Tonight, it is all about the US with jobless claims, PCE deflator (Feb) and the Chicago PMI, the data releases to watch. Fed Williams speaks, but unlikely to be market moving (topic is future of New York).
The consensus suggests the US core PCE deflator likely rose by 0.4%, but the risk here is to the downside. As for the Chicago PMI, Boeing's order data point upside risk to the 57 print expected by consensus, up from 56.3 previously.
Market Prices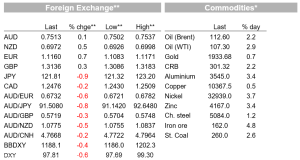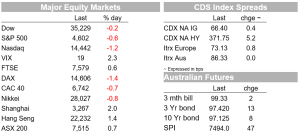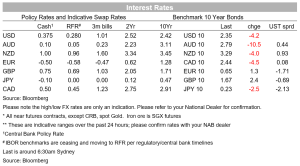 Read our NAB Markets Research disclaimer
For further FX, Interest rate and Commodities information visit nab.com.au/nabfinancialmarkets