Markets Today: Powell talking faster than fast
US bond yields march higher pre and post Powell speech
Todays podcast
Overview Up Up and Away
US bond yields march higher pre and post Powell speech….
.. in which he says Fed requires 'substantial firming in stance of policy'..
US money market now has 84% change of +50bps in May
WSJ says support growing for EU-wide ban on Russian oil (crude +$6-7)
Currencies mostly reversing Friday's moves, AUD back sub-0.74
Slim pickings on Tuesday's calendar
I'll be Up Up and Away, Up Up and Away – Kid Cudi
US bonds and oil prices in the limelight overnight, Treasury yields substantially higher across the yield curve both pre and post Fed chair Powell's speech. Oil prices are back in the (sharp) ascendancy, with support from a WSJ reports the EU is moving closer to agreeing a ban on the import of Russian oil. Higher US yields and a weaker start the week for equities are giving the USD a bit of a fillip, alongside which AUD is losing its grip on the 0.74 handle.
Fed chair Jay Powell has spoken to the National Association of Business Economist (NABE) in the last few hours, and his messaging could not be clearer. The Fed need to move 'expeditiously' towards tighter monetary policy with a 'substantial' firming in the stance if policy required. 'Nothing' would prevent the Fed from raising rates by 50bps in May, with a willingness to 'hike by more than 25bps each time if needed'. 
The bond market vigilantes have got the memo. 2-year Treasury yields has already lifted from 1.94% to above 2.02% prior to Powell' speech and have jumped another 10bps or so since he started talking, currently at 2.12%. the 10-year yield meanwhile, which ended last week at 2.15%, is currently more than 15bs higher at 2.315%, leaving the 2s10s curve 2bps flatter on the day. The US Fed Funds futures now has 42bps of tightening priced for May up from 3.5bps at Friday's close, and 80bps over the combined May-June meetings, so now flirting with the notion of back-to-back 50 point increases.
US equities, which were meandering in an out of unchanged versus Friday's close in morning trading, have been wilting – but not cratering – since Powell started speaking, the S&P ending the session down just 0.1% having been as much as 0.5% lower post-Powell, while the more interest rate sensitive NASDAQ finished -0.4% having been off 1%. Earlier, the Eurostoxx 50 finished its day off 0.5%.
Oil is once again firmly in the spotlight, Brent crude currently up over $8 and WTI just under $8.  Support here has been drawn from a WSJ reports saying support for a European Union-wide ban on the purchase of Russian oil is growing inside the bloc , according to diplomats involved in the discussion, representing a significant shift in the continent's stance toward how to ratchet up economic pressure on Moscow. Agreement on any EU ban of Russian crude is far from locked in yet, and a rapid decision to move ahead isn't likely, diplomats said.
On the other side of the oil supply-demand equation, US State department spokesman Ned Price spoke of 'substantial progress' in efforts to revive the 2015 Iran nuclear deal , which diplomats say now hinges on perhaps the most politically sensitive issue in the negotiations: whether to remove the U.S. terrorism designation for Iran's elite Revolutionary Guards, the country's powerful security force, diplomats said.  The issue is galvanizing opposition to the nuclear deal in Washington and among Middle East allies such as Israel, where the government issued stinging public criticism of any attempt to remove the terrorism designation of the Islamic Revolutionary Guard Corps, the WSJ reports.
In FX , the combination of sharply higher US yields across the curve and a less positive start to the week for risk sentiment than wa s the case for much of last week (both into and out of the Fed, and an 'glass half full' approach to prospects for an early cessation of Russia's bombardment of Ukrainian cities, sees the USD drawing some fresh support, the DXY index currently 0.3% higher on the day, led by a 0.4% drop in EUR/USD. AUD/USD is about 0.25% lower just beneath 0.74 (off an earlier high of 0.,7425) and the NZD 0.3% lower to below 0.69 off a 0.6923 earlier high.
On the EUR, ECB Governing Council member Ollie Rehn has just been speaking and says the revised policy guidance following the March 10 meeting was a compromise to which all GC members agreed and that the guidance do not imply 'earlier or later' rate hikes, which he suggests could come in late 2022 or earl 2023.
Coming Up
No top tier data anywhere in the world today (just ANZ weekly consumer confidence down here, and in the northern hemisphere the Richmond Fed Manufacturing Index).
RBA Governor Lowe participated in a 'Meet the regulators' panel at ASIC's forum, at 14:30 AEDT. It doubtful it will move the 3-year bond futures.
This evening, ECB Executive Board member Fabio Panetta gives pre-recorded remarks at a joint Bundesbank, ECB and Chicago Fed conference.
ECB Governing Council member Francois Villeroy de Galhau gives a presentation on sustainable finance at conference in London organized by the Economist
ECB President Christine Lagarde gives a pre-recorded speech on Emerging Challenges for Central Banks in a digital world, during the BIS Innovation Summit 2022.
Market Prices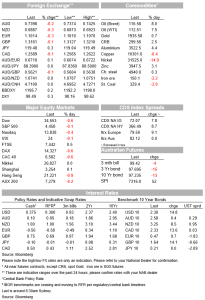 Read our NAB Markets Research disclaimer
For further FX, Interest rate and Commodities information visit nab.com.au/nabfinancialmarkets