Markets Today: Strong earnings, cautious ECB and NZ's first day without QE
Monday's delta blues are once again talking back-seat in driving markets, the winning streak in the major US stock indices extending to a third day as incoming quarterly earnings reports for the most part continue to beat expectations, the S&P500 closing within 0.4% of last Mondays record high.
Todays podcast
Overview
US stocks rally for third day in succession, S&P 500 to within 0.4% of last week's record high
AUD up for second day running, but 0.74 handle still a bridge too far
ECB tweaks formal interest rate guidance (with two dissents) but no practical changes in policy as yet
'Flash' July Markit PMIs around the globe the main economic draw into the weekend
Why do we scream at each other? This is what it sounds like, When doves cry – Prince
 
Monday's delta blues are once again talking back-seat in driving markets, the winning streak in the major US stock indices extending to a third day as incoming quarterly earnings reports for the most part continue to beat expectations, the S&P500 closing within 0.4% of last Mondays record high. The USD is still firmer, thanks to EUR slippage in the wake of the ECB meeting, but commodity currencies are faring better, as to is GBP, with AUD/USD now just over a cent up on its mid-week foray below 0.73. Bond yields are lower across the globe, more so in Europe than the US post-ECB. Flash PMIs today are the main economic data draw heading into the weekend.
Thursday's ECB meeting has left the EUR as the weakest G10 currency in the past 24 hours, down 0.2% to 1.1768 though still fairly comfortably inside the 1.17-1.18 current support zone.  Described as revised interest rate guidance (to which two Governing Council members, Germany's Weidmann and Belgium's Wunch are reported by Bloomberg to have been opposed) the post-meeting ECB statement reads : "In support of its symmetric two per cent inflation target and in line with its monetary policy strategy, the Governing Council expects the key ECB interest rates to remain at their present or lower levels until it sees inflation reaching two per cent well ahead of the end of its projection horizon and durably for the rest of the projection horizon".
While interpreted to mean a 'lower for longer' interest rate trajectory, ECB President Lagarde repeated in her press conference that "the purpose is not to keep rates lower for longer, it's to reach the (inflation) objective"'. Still, enough of a change in formal guidance to draw the opprobrium of at least two GC members. As for practicalities, no changes . The Pandemic Emergency Purchase Programme (PEPP) is to continue to at least March 2022 as per previous guidance (no change in the size of the envelope) with the (pre-pandemic) Asset Purchase Programme (old-school QE) to continue at the current pace of EUR20bn per month until just before the ECB raises rates.
Lagarde described the economy as on track for strong growth in Q3 but with supply bottlenecks to dampen manufacturing activity in the short term (note 'flash' July EZ PMIs due tonight). She says that the current inflation pick-up is expected to prove temporary, with weak wages growth and past Euro strengthen factors apt to keep inflation subdued for a while (no new forecasts today, but 2022 and 2023 were last projected at 1.5% for both years).  One distinction worth noting vis-à-vis the Fed's new AIT framework , where the FOMC say that rates will not be raised until actual inflation is above 2%, Lagarde says that policy will continue to be based on forecasts (as is apparent from the quote above in the opening statement).
All up, Lagarde sounding dovish as expected, but nothing tangible by way of new, easier policy signals to back this up (for which we can imagine garnering a strong consensus on the GC, at least at this stage, might well have been problematic). Enough said though for EUR/USD to be the weakest G10 currency post-meeting, down over 0.5% from pre-ECB high to post-ECB low, but only -0.2% on the day, sufficient to see the DXY USD index up just under 0.1% despite gains for most other G10 currencies. This includes a 0.4% rise in GBP/USD and 0.3% gain for AUD/USD. GBP gains come despite comments from Deputy BoE Governor Ben Broadbent who played the transitory inflation card and argued the appropriate policy response to the inflation overshoot might be to do nothing.
AUD is the third best performing currency on the night after NOK and GBP, pushing to a high of 0.7397 so just over a cent up on Wednesday's night's lows. To note here is that despite the grim local covid news which currently sees more than half of Australia's population in lock-down with no end in sight, this is making scant impression on the currency, whose value continues to be determined elsewhere.
In bond markets, the German 10-year benchmark is just over 3bp lower at -0.43% – all of the decline coming post-ECB – with Euro-peripheral yields down a bigger 5bp on average. This compares to a 2bps decline in 10-year US Treasuries to 1.27% and 1bp drop in the 2-year to 0.20%.
While the gains in equity markets suggest that the spread of delta and its implications for economic re-opening that gripped markets either side of last weekend are now in abeyance, it is the IT sector, led my Microsoft and Apple, that has led the gains in broader indices. Financials – suffering from the slight yield curve-re-flattening – industrials and energy are among the weakest sector (all finishing the day lower). Thus the NASDAQ (+0.4%) outperformed the S&P (+0.2%) and Dow (+0.1%) while the Russell 2000 ended down 0.15%.
In economic data , US jobless claims unexpectedly rose last week to 419k, some 70k higher than the market expected but seasonal adjustment factors, particularly in respect of the timing nd extent of annual auto sector re-tooling shut-downs, is likely to have been at play so not much should be read into the figures. US existing home sales rose for the first time in five months and median prices rose by 23.4% y/y amid low inventory. The Kansas Fed Manufacturing Activity rose to 30 from 27, above the 25 forecast. Euro area consumer confidence declined in July from a 3½-year high, as new cases of COVID19 increased.
Coming Up
It's (flash) Markit PMI Friday with numbers for Australia, France, Germany, pan-Eurozone, UK and US. For the Eurozone, a slightly softer, but still very strong Manufacturing read is expected (62.5 from 63.4) while Services improves marginally, to 59.3 from 59.2. For the UK, small falls expected for both Manufacturing and Services but from highly elevated levels, ditto in the US, 0.1pt. declines expected for both (Services last at 64.6, Manufacturing at 62.1).
Market Prices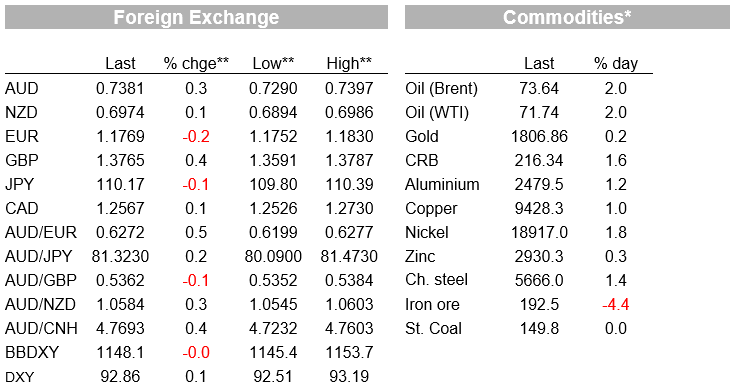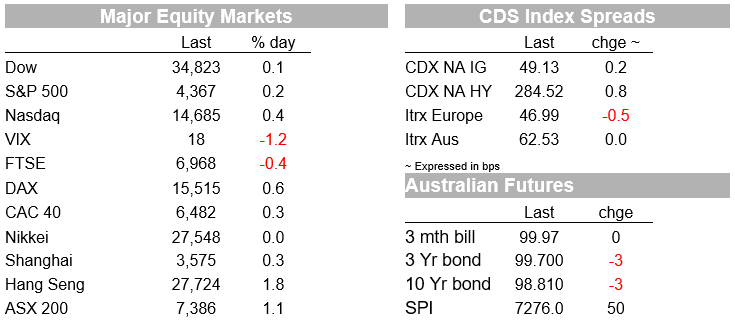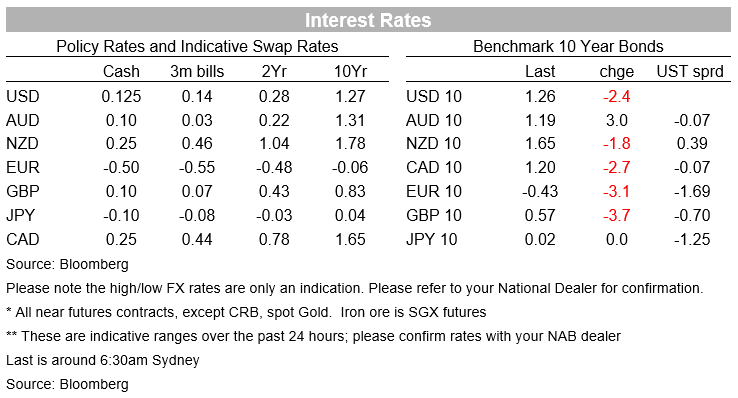 For further FX, Interest rate and Commodities information visit nab.com.au/nabfinancialmarkets