Markets Today: Talking turkey on central bank thinking
BoE's Bailey still guiding that rates will need to be higher ahead of the Dec MPC meet.
Todays podcast
Overview Sweet Dreams (Are Made of This)
Very quiet given the Thanksgiving holiday – US equity and bond markets were closed
European markets positive: Eurostoxx50 +0.4% and 10yr Bund yield -2.3bps to -0.25%
BoE's Bailey still guiding that rates will need to be higher ahead of the Dec MPC meet
ECB's Minutes highlights the divergence between the dovish ECB and the US Fed
Coming up today: AU Retail Sales, BoE's Pill, ECB Speakers
"Sweet dreams are made of this; Who am I to disagree; I travel the world and the seven seas; Everybody's looking for something; Hold your head up, keep your head up, movin' on", Eurythmics 1983
A very quiet night overnight with the US equity and bond markets closed for the Thanksgiving Day Holiday. Futures though were open with the S&P500 Dec Emini +0.1%, while the implied yield on the 10yr Treasury future was unchanged. Across the pond European equities were in the green with the EuroStoxx50 +0.4%, while European yields fell modestly with the German 10yr Bund yield -2.3bps to -0.25%. FX moves have also been modest with most major currencies +/- 0.2%. USD strength remains the prevailing narrative with BBDXY +0.1% overnight. The AUD remains on the backfoot -0.1% to 0.7189. There has been little in the way of data or headlines of note apart from BoE and ECB speakers who mostly repeated familiar themes. You will have to forgive your scribe for the shortest Markets Today ever.
Central bank speak reiterated familiar themes. BoE Governor Bailey kept to the view of the need for rate hikes, noting overnight "The risk for us is that they get and they get embedded. If we get higher inflation for longer, we start to expect that it will continue, and then it gets into wage bargaining — and we've got a very tight labor market in this country, no question about that — that's where central banks will have to come in. " Across the channel on the continent the ECB Minutes were in sharp contrast, emphasising for the ECB inflation pressures are transitory and marking the ECB as one of the most dovish central banks out there. Of course nothing new there, but adds to the story of USD strength with the US Fed looking more likely to hike rates in 2022.
In China, there are signs that authorities are becoming worried around the growth situation with property rules being loosened – Bloomberg reported authorities in the city of Chengdu (population 21 million) had loosened property rules in a bid to ease the cash crunch on struggling developers, the first major local authority to do so.  Meanwhile, China's State Council has encouraged local governments to step up construction projects to support the economy. Commodity markets initially reacting positively to the news, but base metals prices are now lower on the day (copper -0.7%, nickel -1.2%).
Markets remain cautious about the outlook for Chinese growth outlook especially given the zero-COVID strategy with Shanghai yesterday reporting three new cases. Also in COVID news a new mutation has been discovered in Botswana with sufficient concerning mutations for the World Health Organization to call a meeting of experts for Friday to discuss whether to declare the new strain a "variant of concern." Scientists said they were still studying the exact combination of mutations of the new variant—currently dubbed B.1.1.529—and how they affect the virus. (see WSJ: South Africa Raises Alarm Over New Coronavirus Variant).
Finally in Australia, payroll figures yesterday highlight the sharp recovery seen in Australia following the end of lockdowns. Payroll jobs surged 3.1% over October, more than retracting the declines associated with the lockdowns seen in NSW, VIC and the ACT in Q3. The sharp rebound is astounding given lockdown restrictions were only lifted in NSW from 11 October and in VIC from 21 October. In other words, the rebound has occurred in under 3 weeks from the end of lockdown restrictions, compared to the 26 weeks it took for payroll jobs nationally to recover from the first round of lockdowns in 2020. Relative to 26 June 2021, payroll jobs are now above 0.8% above, with NSW within hairsbreadth at -0.1% and VIC -0.4%. The states that did not go into lockdown are 1.1-3.6% above.
Coming up today:
Domestically we have retail sales which should show a sharp rebound following the end of lockdown restrictions. Offshore it is very quiet, though the BoE's Pill will be worth a listen:
NZ: Consumer Confidence: No consensus available, 98 was the prior read.
AU: Retail Sales – October: Expect a sharp rebound as lockdown restriction eased in the month. NAB expects a 2.8% m/m increase, which is slightly more than the 2.2% consensus.
JN: Tokyo CPI – November: Core CPI for the Tokyo area is expected to be -0.3% y/y.
UK: BoE Speakers: BoE's Pill speaks on the economic outlook.
EZ: ECB Speakers: Several ECB speakers are out speaking at a legal conference, including President Lagarde, Schnabel, Centeno, and Lane.
Market Prices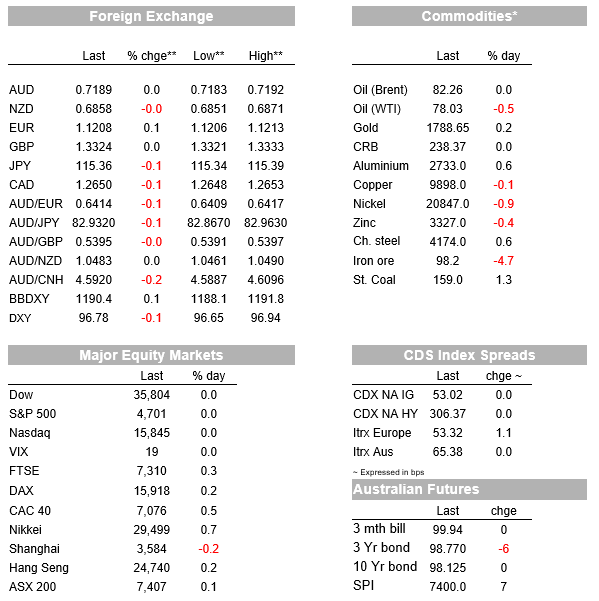 Read our NAB Markets Research disclaimer
For further FX, Interest rate and Commodities information visit nab.com.au/nabfinancialmarkets