Markets Today: Rumoured US tax grab
Shares in the US have fallen on news of a planned sizeable hike in capital gains for wealthy Americans.
Today's podcast
Overview: Capital G
US equities spooked by report Biden plans big capital gains tax hike on wealthy Americans
US Treasury yields lower, safe-haven support for USD, JPY and CHF (AUD and NZD lower)
ECB describes taper talk as premature but hints at forecast upgrades on June 10
It's (Markit) PMI Friday
The 2007 song by Nine Inch Nails deals with corruption and greed, with several stabs at US President George W. Bush (who, recall, signed his name with a capital 'G').  The subject is how complicit the American people behaved when Bush started the war in Iraq ("He pushed a button and it dropped a bomb, you pushed a button and could watch it on the television") and ignored global warming ("Ain't gonna worry about no future generations").
It's hijacked today in reference to a report that President Biden – three Presidents on from 'Dubya' – plans to nearly double the capital gains tax on Americans earnings $1m or more, to 39.6% from 20%, to help fund his next major fiscal package, the American Families Plan. This is expected to include funding for, amongst other things, childcare, paid family leave, and education and could be worth in the region of $1 trillion ($1.5 trillion including new tax credits).  Biden is expected to announce details of the new fiscal plan next week. This should really be no surprise, being one plank of his pre-election manifesto, yet as we saw in 2017, markets only started responding (positively) to the prospect of tax cuts when the reality was almost staring them in the face (in which respect we'd note that the proposed lift to corporate tax rates to help fund the separately proposed infrastructure spending plan, have not yet begun to faze US equity markets).
Rightly or wrongly – there's a long way to go before the proposed capital gains tax hike might become reality- capital gains tax story has spooked US equity markets somewhat (indices closing down just shy of 1%), helped pull Treasury yields lower (10s -1.5bps to 1.54%) and offered some safe-haven support to the USD, JPY and CHF. AUD and NZD are accordingly softer, AUD/USD having traded briefly back below 0.77 (low of 0.7691, 0.7710 now).  NZD (low of 0.7146) has extended the losses seen during our time zone yesterday, following reports that the NZ government intends to regulate bank lending standards (standards, such as LVR ratios, have traditionally been the domain of the RBNZ).
The other notable event overnight has been the ECB. This went off with barely a ripple in market though EUR/USD was a touch softer after President Lagarde pushed back against the notion of tapering of its bond purchases (premature, she said, after previously agreeing to front-load them in Q2 after Eurozone yields had staring succumbing to the pull-up from the US Treasury market). As we noted in our ECB write up though, there were a couple of subtle acknowledgments today that an upgrade to forecasts is likely coming at the June 10 meeting, in which respect Lagarde did highlight the pick-up in vaccinations and noted high frequency data are confirming to ECB staff that their previous view of an improvement in the medium-term being on course.
In her opening statement, Lagarde noted that EZ economic growth in Q1, "may have contracted again" (as in Q4) but this represents an upgrade from her 11 March line that Q1, "is likely to have contracted". Thus, the ECB now seems open to the prospect of the economy flatlining rather than an outright further contraction. In March the statement called for ambitious and coordinated fiscal support as being 'critical'. Today this was deemed 'crucial'. You may argue that's semantics, but as my colleague Gavin Friend notes 'the formulaic ECB does not replace any words without intention'. The June meeting might then see the ECB announcing it will return bond purchases to their Q1 rate (within the prevailing PEPP envelope) while retaining the flexibility to dial the programme up and down.
10 year German Bund yields ended the day +1bp at -0.255%, and after a brief dip back below 1.20 (low of 1.1994) EUR/USD is now back above, at 1.2015.  the Eurostoxx 50 finished its day +1.0% (closing before the aforementioned capital gains tax story broke).
On the economic data front, US weekly Initial jobless claims fell to 547k from 586k, below the consensus, 610k, the significance of which is that it confirms that last week's unexpectedly large drop not a fluke. In contrast, Existing Home Sales fell by a larger than expected 3.7% in March. This follows what was deemed to be a storm-related plunge in February and is further evidence that this year's sharp back up in 30-year mortgage rates – the tenor of choice for most Americans – is seriously impinging on demand. New Home Sales are tonight.
Finally, Intel share have fallen about 2% in after-market trade, on top of a day session drop of 1.8%, after beating its earnings and revenues estimates, reportedly on a large dip in data centre sales (a major growth focus of the company).
Coming up
It's Markit PMIs Friday, and where in the EU the focus will be an whether the rebound in services are still holding up even with virus restrictions having been tightened recently. Consensus sees both the Manufacturing and Services reading down a bit on March (manufacturing 62.0 from 62.5, Services 49.1 from 49.6).
For the UK, a bigger bounce in Services is expected given the easing of some restrictions since Easter (consensus 58.9 from 56.3, and for manufacturing 59.0 from 58.9). Also Retail Sales, seen +2.0% ex-auto fuel.
Japan has CPI this morning as well its PMIs (as does Australia re PMIs – CPI is the focus for next week).
The US PMIs are seen up to 61.0 from 59.1 (Manufacturing) and 61.5 from 60.4 (Services). The US also has March New Home Sales (seen up a whopping 14.2% on the month but after -18.2% in February).
Market prices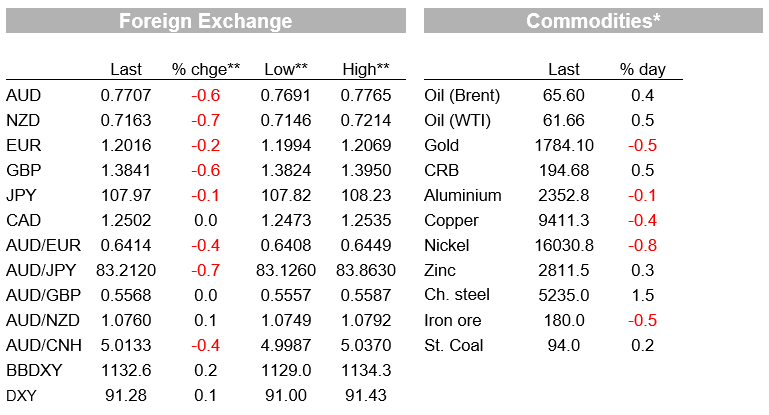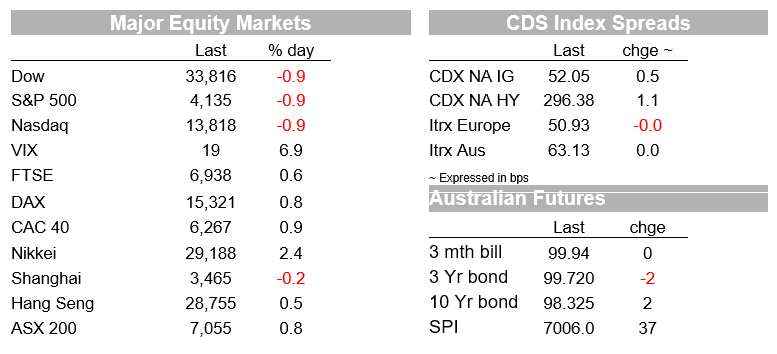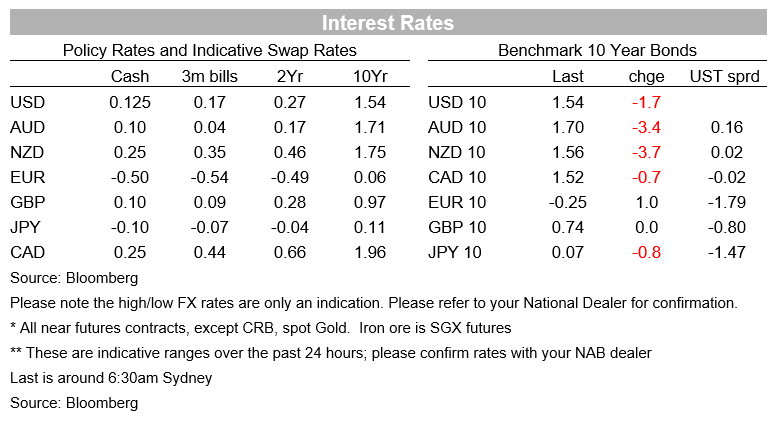 For further FX, Interest rate and Commodities information visit nab.com.au/nabfinancialmarkets
More from NAB