Markets Today: vaccine wrangles add to delay concerns
Even though countries are pressing ahead with vaccine role outs, the speed of recovery might be slower than envisaged.
Today's podcast
Overview: Dancing in the storm
European PMIs beat expectations despite virus cases ticking higher in Europe
US stocks fall, though cyclical rotation evident with tech dragging sharply
Oil jumps on the back of the Suez Canal being blocked by a container ship
Yields little moved with US 10yr -1bps to 1.61%
Coming up: very quiet, ECB's Lagarde, Fed's Clarida
"Here we go, here we go for one more turn; We can spin, We can spin and not fall down; Hold on tight, we can both become unwound; You and I are going out; And we're dancing in the storm", Boom Crash Opera 1990
There was a slight improvement in risk sentiment overnight with better than expected European PMIs adding some stability to the reflation/cyclical rotation narrative. European stocks were mixed though with the Eurostoxx50 +0.1% and DAX -0.4% amid ongoing concerns around the rise in new virus cases and Germany's reversal of its proposed hard 5-day Easter lockdown. US equities took a slightly more positive view with the S&P500 opening higher, but faded in the afternoon with the S&P -0.5% with tech stocks dragging (e.g. NASDAQ -2.0%) and cyclicals outperforming (industrials sub-index +0.7% and financials +0.4%). Yields were little moved, continuing to consolidate with the US 10yr -1bps to 1.61%. The biggest mover overnight was the oil price with Brent Oil +5.7% amid reports the Suez Canal was blocked by a large container ship. FX moves were modest with the USD (DXY) +0.2%. The AUD fell, though most of the moves occurred in Asia yesterday with the AUD little moved overnight and currently trades at 0.7588.
There was plenty of economic news, but market reaction was been only temporary. European PMIs for March were much stronger than expected across the board, particularly for the Manufacturing PMI which was 62.4 against 57.6 expected and 57.9 previously. Strength was led by Germany at 66.6 amid reports of strong orders from Asia (particularly China), Europe and the US. Services activity also lifted to 48.4 from 45.7 with the German Services PMI in positive territory at 50.8 despite ongoing virus restrictions. The weak point in Europe remains around the vaccine rollout amid the rise in new virus cases and the tightening of restrictions (Belgium the latest to tighten restrictions) which likely means the mooted acceleration in Q2 may have to be pushed back by a quarter. Germany has also backed down from a proposed hard 5-day Easter lockdown, adding further fodder to the critics of Europe's strategy in fighting the virus. Accordingly the narrative of the US outperforming Europe in the coming quarter remains despite the better than expected PMI data.
US PMIs were close to or slightly softer than expectations. Concerns around inflation remain elevated with Markit noting "meanwhile, unprecedented supply chain disruptions
pushed price gauges higher once again. The overall rate of input cost inflation accelerated to the fastest on record as raw material, PPE and fuel prices reportedly soared". Interestingly firms have been able to pass through higher input costs to customers (" Stronger demand conditions allowed for the partial pass-through of costs to clients, with the overall pace of selling price inflation also hitting the sharpest on record") (see US Markit PMI commentary for details). As for other economic data, Durable/Capital orders fell in February with the severe winter storms the driver with this effect seen in other macro data over recent weeks (Core Durable Orders -0.9% v +0.5% expected).
Fed speak has not been market moving. Chair Powell and Treasury Secretary Yellen are in front of lawmakers for a second day, but nothing new has emerged given they spoke on Tuesday to the House. Also speaking overnight was the Fed's Williams who repeated the well-worn lines of "see[ing] the U.S. economy recovering really nicely over the next couple of years,", but again "I don't see inflationary pressures really building during that time. " Meanwhile the Fed's Bostic outed himself as one of the Fed members who pencilled in a hike for 2023.
Europe's vaccine woes are also impacting the rollout in other countries and could hamper the UK's rollout given disagreements around exporting vaccines. To date GBP has been boosted by relative outperformance, though a slowing in the pace of vaccinations could likely see such outperformance start to reverse. As for UK data, the PMIs better than expected with a noticeable acceleration in the Services PMI at 56.8 from 49.5 and 51.0 expected as restrictions start to ease. Manufacturing also beat at 57.9 against 55.0 expected. In contrast UK Core CPI figures were much weaker than expected at 0.9% y/y against 1.4% expected. The shortfall was blamed on an unusual drop in clothing and footwear prices, which usually rise in February with pricing likely were impacted by virus restrictions.
In currency markets, movements have been modest, all within plus or minus 0.3% against the USD after the end of the APAC session. Most of the moves during APAC though were retained with the AUD and NZD having moved lower in APAC yesterday. Over the past 24 hours the AUD is -0.8% and NZD -0.3%.
Across the Ditch the NZ rates market had another massive day yesterday, with big falls in mid-long term rates, driven by both global and domestic forces. My colleague BNZ colleague Jason Wong notes the NZ Debt Management announced its tender schedule for April, which showed a reduction in issuance of $150m per week to $300m-$350m (the latter figure reflecting linkers remaining at $50m per fortnight) and slightly less duration, with the 2041s removed from the schedule. A new 2032 bond will be syndicated in May, rather than April, later and a shorter maturity than expected. In a market that was apparently short duration, the announcement led to a strong rally in NZGB yields, alongside the tailwind provided from global forces.
Coming up today
A quiet day for Australia with no data scheduled. It is also quiet offshore with no top tier data with most focus on central bank speakers with ECB President Lagarde and US Fed Vice-Chair Clarida. Details below:
EZ: ECB speakers: A number of speakers are scheduled including President Lagarde who is speaking at the BIS Conference on a panel on supporting sustainable growth. Other speakers worth noting including Schnabel and De Guindos.
UK: BoE's Bailey: Unlikely to be market moving with Governor Bailey talking on central bank innovation, while also unveiling the new £50 note.
US: Jobless Claims/Final-Q4 GDP/Fed Speak: Weekly Initial Jobless Claims are expected to be 730k, while a final read on Q4 GDP is unlikely to be market moving with consensus at 4.1% annualised.  Also out is the Kansas City Manufacturing Index ahead of the ISMs next week. There is plenty of Fed speak with the most notable being Vice-Chair Clarida who is speaking on the 'economic and monetary policy outlook'.
Market prices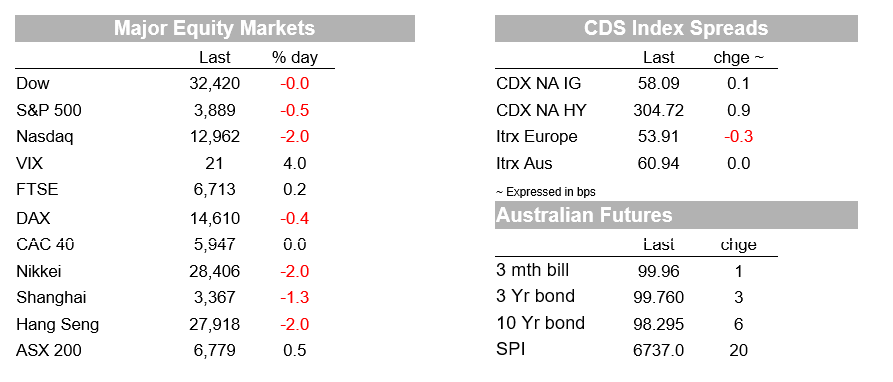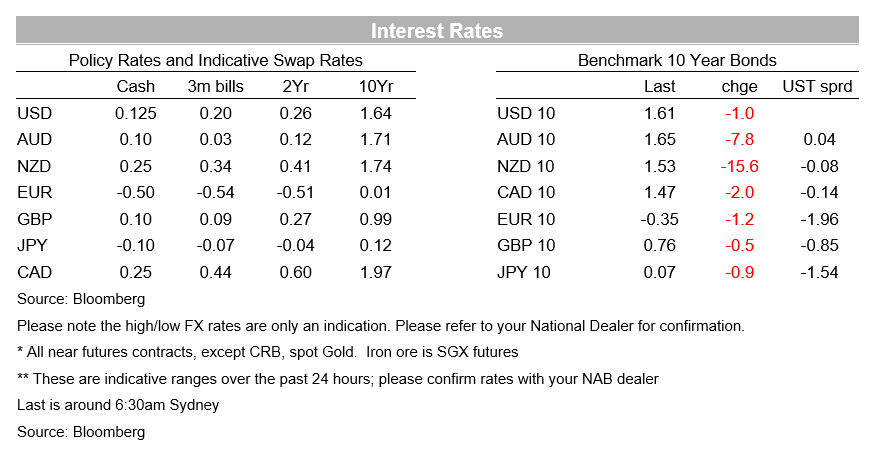 For further FX, Interest rate and Commodities information visit nab.com.au/nabfinancialmarkets