Markets Today: virus 'out of control' yet equities still rise
Dr Fauci has declared the virus as 'out of control' in the US and more measures need to be brought in to contain it.
Today's podcast
Overview: Out of control
US equities end the quarter on a positive note while European equities have a mixed night
GBP and Commodity linked currencies perform amid risk on and month end flows
Dr Fauci warns COVID-19 US infection could reach 100k p/d- "Clearly we are not in control right now"
Longer dated UST yields edged a bit higher, but remain within recently held ranges
Another busy economic calendar: AU Building Approvals, JP Tankan, China Caixin Mfg. PMI, US ADP, US ISM and June FOMC Minutes
The record player keeps on, Turning round
It could be stuck or maybe, It's a sound. It seems to me we both should
Hang around, (Surrendering to love)
Out of control, We're out of control – Chemical Brothers
US equities have ended Q2-20 on a positive note recording impressive numbers for the quarter. Equity investors have yet again ignored underwhelming US virus stats and warnings from US top disease expert. Overnight details of China's new Hong Kong laws also didn't elicit much of a market reaction. The USD is a tad weaker with GBP and commodity linked currencies outperforming.
US equity investors continue to see the bright side of life
The Fear Of Missing Out along with the need to put cash to work against a stimulus deluge backdrop continues to be the overwhelming force, notwithstanding worrying virus infection rates and warnings from experts. In recent weeks US data releases have surprised on the upside, as economic activity comes back to life following the reopening of the economy. But the rise in COVID-19 infections is now triggering a reversal on the reopening strategy, so it remains to be seen if the US economy will continue to surprise over the coming month.
The S&P 500 has ended the month of June up 1.54% on the last day of the month and up 19.95% for the quarter. The NASDAQ closed the day up 1.87% and up 30.63% on the quarter, its best quarterly figure since 2001 and last but not least the Dow closed +0.85%, up 17.77% on the quarter, its biggest quarterly advance since 1998. Looking at the S&P 500 sector performance, Energy and Consumer Discretionary were the best performing sectors, both up just over 30% as investors bet on the economy reopening and its swift recovery. Utilities, a defensive sector, underperformed down 2.5% in Q2.
If the big US equity gains in Q2 can be partly attributed to the reopening of the US economy, then events over the past week are a warning in terms of what to expect next. Yesterday the US recorded more than 40k new virus cases, the fourth time in the past five days. Speaking before the US Senate, Top US  disease researcher Dr Fauci warned that  he was concerned about the trend in US case numbers and that he wouldn't be surprised if the number reached 100,000 per day (up from over 40,000), alongside a "disturbing" number of deaths. The surge in infections – which is occurring particularly strongly in southern and western states – has forced at least 16 states to pause or reverse their reopening plans and according to USA Today analysis the new containment measures will affects 48% all US residents.
In data released overnight
US consumer confidence rose by more than expected and included decent rises for virus hotspots California and Florida – But as mentioned above, are these sort of stats likely to sustained over the coming  month?. The recovery in the Chicago PMI underwhelmed, but that was put down to the impact of Boeing, with other regional indicators still pointing to a decent recovery in the nationwide ISM index released tonight. Canada GDP plunged almost 12% in April but the flash estimate for May showed a 3% rebound, while June is looking even stronger.
Moving onto currencies
The USD ended the quarter a tad weaker on the day, BBDXY down 0.17% extending its decline for the month to -0.61%.  Hard to attributed FX moves to any news, instead we think the bulk of the moves have been largely a function of month/quarter end flows. The overnight charts revealed good supply of USD across the board at the London 4pm fix, worth 20-25 points each for AUD, NZD and EUR but other G10 too.
GBP is the strongest of the majors, up 0.7% to 1.2390.Overnight UK PM Johnson outlined a commitment to a long-term infrastructure spending plan – what he called a "New Deal", allocating some £5bn. Given the underwhelming figure, it is hard to suggest the announcement had a positive effect on the pound. GBP is one of the worst performing majors for the month and some of its gain overnight might be put down to month-end reallocation flows.
Commodity linked currencies are the other outperformers
Yesterday the AUD gained, from 0.6864 NY close to 0.6880 high following better than expected China official June PMI prints (Manufacturing 50.9 from 50.6, non-manufacturing 54.4 from 53.6 and Composite 54.2 from 53.4. then later in our day session the AUD took a dip back to just below NY closing levels on the news that Victoria is to lock down 10 Melbourne suburbs considered hotspots for the recent jump in virus cases. But after that the overnight session has largely been an upward trend for the AUD with the pair trading to an overnight high of 0.6912 , before settling at 0.6903 where it currently trades. NZD's direction of travel ahs been similar to the AUD, trading to an overnight high of 0.6461, consolidating in the past couple of hours and currently trading at 0.6454..
US 10-year Treasuries traded a tight range, but have pushed on up about 3bps over the past few hours to 0.656%, possibly driven by month-end positioning. The UST curve has had a steeping bias with the 30y bond up 4bs to 1.41% while the 2y rate is unchanged at 0.149%.
In other news which hasn't had much impact on markets
China's national security law for Hong Kong was passed and the legislation was published, which included life in prison for the most serious cases of terrorism, secession, subversion of state power and collusion with foreign forces. The US began its roll back of special trading privileges and the government vowed "strong actions".  Separately, the Federal Communications Commission designated Chinese manufacturers Huawei and ZTE as national security threats, meaning that money from federal subsidies used by many small rural carriers may no longer be used to buy or maintain equipment produced by those two companies.
Coming up
We have another busy day in calendar today. NZ gets House prices (June) and Building permits (May), the AIG performance of Manufacturing Index (June) is out in Australia followed by CoreLogic Monthly House prices for June.
In offshore markets Japan's Tankan Q2 survey is out this morning ahead of China's Caixin manufacturing PMI (June).
Later today Germany gets labour market data for June and Final Manufacturing PMIs for June are released in several European countries and the Eurozone.
Then tonight the US gets MBA mortgage applications, ADP employment change, May construction spending, June ISM manufacturing and the June FOMC meeting minutes.
BoE Haskel (21:00, AEST) and Fed Evans (midnight, AEST) are on speaking duties and after 13 months of political wrangling, NAFTA goes into the history books and USMCA the new US-CAD-MXN trade deal takes effect. Read here for a brief article on how did we get here and what has changed.
See table below for data releases consensus numbers vs previous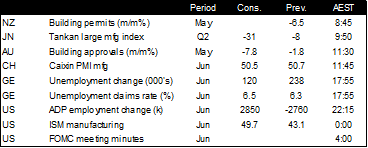 Market prices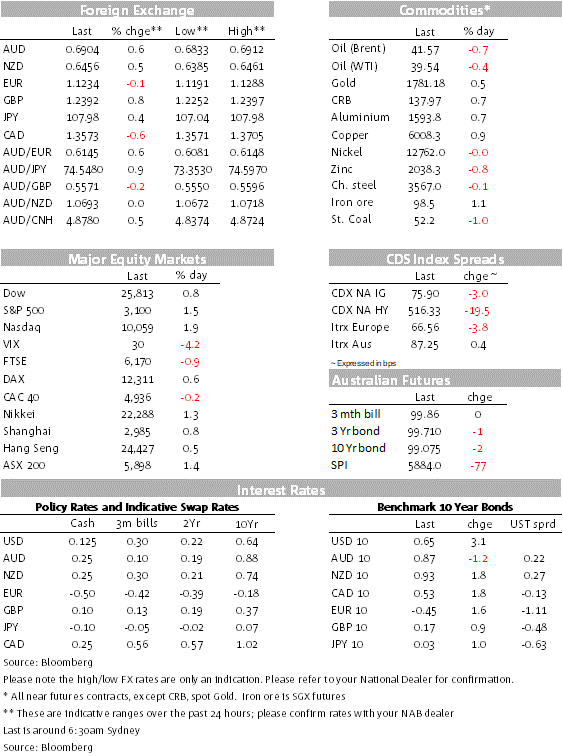 For further FX, Interest rate and Commodities information visit nab.com.au/nabfinancialmarkets
More from NAB