Markets Today: Wall St pulls back during quiet session
US equities dipped a little overnight, pulling back from record highs.
Today's podcast
Overview: From Paris to Berlin (and London too)
GBP (+1.1%) and EUR (+0.5%) outperform as markets pivot towards a European re-opening
European vaccine rollout expected to pick-up steam with Pfizer flagging 100m more doses
Outside of that, little news or data of note in what has been a mostly quiet night overall
Equities down (S&P500 -0.5%, NASDAQ -1.0%), yields up (US 10yr +2.5bps to 1.60%)
Coming up: very quiet again, RBA Minutes, PBoC Prime Rate, UK Employment, Earnings continue
"From Paris to Berlin, And every disco I get in, My heart is pumping for love, Pumping for love", Infernal 2005
From Paris to Berlin was a 2005 dance hit by Danish group Infernal and echoes the recent pivot in markets back towards pricing a European recovery. Overnight news that Pfizer will deliver 250m vaccine doses to the EU by the end of Q2 and that the EU has secured 600m doses in total to be delivered during the year has also added to that sentiment. High frequency data is also showing a sharp rebound in UK activity, echoing the 'coiled spring' analogy of outgoing BoE chief economist Haldane. FX is where the turn in sentiment is being felt most with GBP outperforming up 1.1% to 1.3986, along with EUR up 0.4% to 1.2035. The USD is on the backfoot with BBDXY -0.4% and down now for six consecutive days. European optimism is also being reflected in yields with the German 10yr Bund yield up 2.7bps to -0.24%. US 10yr Treasury yields also rose 2.7bps to 1.61%, after having been weighed down last week in what partly appeared to be hedging related flow related to the wave of financial issuance.
There was little other news or data of note in what has been a mostly quiet night. Equities did fall with the S&P500 -0.5% and NASDAQ -1.0%, though that looks to reflect profit taking and some technical factors with earnings continuing to surprise to the upside. A number of analysists note the S&P500 has tended to fall once levels are 16% above the 200-day moving average (such a divergence coincided with sell-offs seen in September, January and February). Earnings overall remain very positive with financials having exceeded expectations by 38% and non-financials exceeding by 12% so far. Illustrating the sharp snap back in activity, Coca-Cola reports demand in March has returned to pre-pandemic levels. Key earnings come after the close today for IBM, while Netflix reports tonight.
Vaccination trends also remain positive, allowing markets to continue to price the other side of the pandemic. The US reports it has now given first doses to 50% of its adult population with 33% now fully vaccinated, while also expanding vaccine eligibility to everyone aged 16years and above. The US CDC also reports very few cases of infection for those who are fully vaccinated, noting just 6,000 COVID-19 cases out of the 84m Americans now fully vaccinated with none of them getting severely ill or dying. The findings confirm the reports we saw out of Israel at the beginning of the year and which gave us confidence in the vaccine-led recovery narrative – note Israel also reported it has now fully vaccinated 81% of its adult population. The one uncertainty remains around virus mutations with India under the focus in this respect. Indian authorities have said they will step up vaccination efforts, saying by May 1 all adults will be eligible to be vaccinated.
In FX is was a story of US dollar weakness that mostly appears to be driven by European strength, namely GBP and EUR.  The market has become slightly more optimistic around the European vaccine rollout and economic outlook of late, as reflected in the 20bps decline in the spread between 10-year US and German bond yields this month and the rebound in the EUR currency. As the rollout picks up, European equities should also start to outperform with a number of investment banks tipping European equity outperformance in the period ahead. Also playing to that view is US outperformance may not be sustained with Biden's proposed infrastructure package looking more difficult to pass with little new momentum on that front since Democratic Joe Manchin pushed back on the extent of proposed corporate tax increases. It looks like budget reconciliation will eventually be used, but the scale of the stimulus may have be reduced somewhat
The EUR is up 0.5% overnight, breaking through 1.20 for the first time since early March. News that Pfizer had agreed to increase its vaccine supply to the EU by 100m doses this year, bringing the planned total to 600m, plays to the emergent EUR recovery view. Pfizer expects to deliver 250m doses this quarter, and 600m doses in total, enough to fully vaccinate around 2/3rds of the population. The GBP has been the outperformer overnight, appreciating over 1% to almost 1.40.
The BBDXY has fallen 0.4% overnight to its lowest level since the end of February. This is the sixth successive day the USD has declined. The USD is off around 2% this month on the back of the pullback in US Treasury yields, greater investor optimism around the European vaccine rollout and rising risk appetite (albeit not so much overnight).  USD weakness overnight has been broad-based; it has fallen against nine of the G10 currencies (the exception being the CAD). The AUD though has performed, up 0.3% overnight.
Coming up today
A very quiet day with only the RBA Minutes of note domestically. Offshore it is also very quiet with nothing on the radar likely to be market moving apart of earnings reports. Details below:
AU: RBA Minutes: Unlikely to be market moving given the post-Meeting Statement was little changed from previously. The language around whether further QE could be expected will also get a passing glance given such commentary was strengthened in the post-Meeting last statement ("the Bank is prepared to undertake further bond purchases if doing so would assist with progress towards the goals of full employment and inflation ").A t the margin there may be some discussion around housing given the Board would have discussed the recently released Financial Stability Review, though that same review played down stability risks from house prices, noting "lending standards are largely unchanged and remain robust" (see FSR for details).
CH: Loan Prime Rate Decision: Consensus is for unchanged for both the 1yr and 5yr rate.
UK: Unemployment/Employment: Consensus sees unemployment little changed at 5.0%. The data is unlikely to be market moving given the sharp rebound seen in high-frequency indicators to date.
Market prices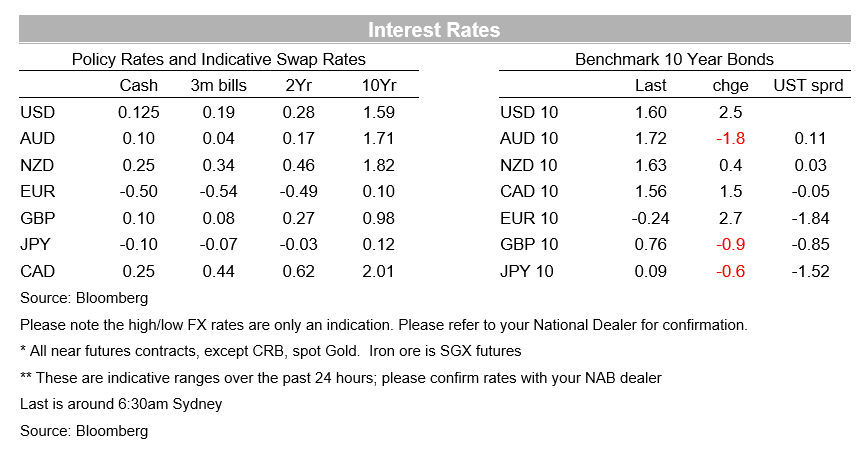 For further FX, Interest rate and Commodities information visit nab.com.au/nabfinancialmarkets
More from NAB