Markets Today: Will US CPI give markets the direction they are looking for?
US Senate passes $550bn Infrastructure bill as expected but still a road ahead for passage by House. No positive covid developments overnight, but markets behaving as though there were. New record high for Eurostoxx 50, S&P500 closes flat, NASDAQ pressured by higher bond yields.
Todays podcast
Overview Devil Inside
US Senate passes $550bn Infrastructure bill as expected but still a road ahead for passage by House
No positive covid developments overnight, but markets behaving as though there were
New record high for Eurostoxx 50, S&P500 closes flat, NASDAQ pressured by higher bond yields
AUD and NZD doing better offshore than onshore, aided by commodity price rebound
All about US CPI tonight, where the devil will be in the detail
The devil inside, the devil inside, Every single one of us, The devil inside – INXS
Sometimes markets trade with not a lot of rhyme nor reason (that's an understatement – Ed) and comparing Tuesday's overnight markets to Monday's, the week so far would seem to fit this particular bill. Thus oil is 2.5-3% stronger, reversing Monday's losses, where the latter were chalked up to weaker Chinese demand linked to the spread of the delta variant and associated travel restrictions. Yet there is nothing positive on the covid front to see this morning. Hospitals are reportedly at full capacity in Texas and Florida – where the Florida governor is fighting tooth and nail to ban mandatory mask wearing – yesterday's China infection numbers were worse than the day before and in Israel they are exploding, such that getting booster vaccination shots into arms has become an urgent priority. And down here of course, yesterday's NSW covid news was the grimmest to date. Case numbers in the UK are also creeping back higher.
None of the above has prevented the Eurostoxx50 closing at a new record high (+0.3%) and while the S&P500 has lost ground in the last hour of trade to finish just 0.01% up on the day, this still leaves it within a whisker of its record high. Materials and energy stocks have been the best performers within the S&P, driven not just by higher oil prices but commodities in general (e.g. the LMEX metals index ended +1.5%). Financials have also fared well, up 1%, where the yield curve (2s/10s) is fractionally steeper (10s up 2bps to 1.35% versus 1.5bps for the 2-year). Higher yields, in turn, are the main reason that the NASDAQ/growth stocks have  underperformed (technology also the weakest segment of the S&P 500, -0.7%).
In economic and political news, the US Senate comfortably approved the Infrastructure bill that includes $550bn of new spending commitments, though House speaker Nancy Pelosi remains adamant that the bill will not come to the floor of the House for a vote until the Senate complete reconciliation of the Biden administration's proposed $3.5tn budget bill. This is unlikely to be a quick process, and will also likely run into debt ceiling negotiations. The final number here may well end up being significantly less than $3.5tn. So for market, nothing much to see for the time being.
Germany's ZEW survey of investor expectations fell by more than expected (40.4 from 63.3 and 55 expected). "Current conditions" improved by less than expected (29.3 from 21. And versus 32.0 expected). The more important IFO survey is not until the 25th. The US NFIB survey of small businesses showed some softening in  confidence about the outlook (99.7 from 102.5 and 102.0 expected). Labour shortages and persistent supply chain difficulties remain key handbrakes on growth, while businesses report being able to pass on higher costs to consumers.
No new Fed speak overnight, or at least not relevant to the current (raging) debate about QE taper timing. Loretta Mester from the Cleveland Fed spoke about the need to understand inflation dynamics in the post pandemic era (and not just in the US) but didn't talk specifically about current Fed policy matters.
In currency markets, Tuesday has been almost the mirror image of Monday, at least for commodity linked currencies, which have all risen even in an environment where the USD has fared better. The DXY and BBDXY USD indices are both up by +/- 0.1%, but CAD, NOK, NZD and AUD are all between 0.2% and 0.4% higher (AUD back to 0.7350 having been as low as 0.7316 during the local session Tuesday). The rebound in oil, for no apparent reason – ditto commodity prices in general –  justifies the moves. Iron ore futures have also rallied, by about 3% overnight for both the Dalian CNY denominated contract and on the Singapore exchange
Yesterday, NAB's latest Business Survey shows hits to both Conditions and Confidence due to the lockdowns. Confidence fell to -8 from +11 (long-run average +5), while Conditions fell to +11 from +25. NSW drove much of the result this month (NSW Confidence -21 and NSW Conditions +1.9), unsurprising given Sydney's protracted lockdown. The forward-looking indicators also softened, with forward orders now back in negative territory and capacity utilisation now back around average. The prices components of the survey though continue to point to pressures with the 3m annualised purchase costs at 7.5% and highest since December 2008, 3m annualised retail prices at 5.8% and highest since March 2001, while 3m annualised labour costs remain elevated at 5.8% compared to its long-run average of 4.3%.
Coming Up
Locally Westpac's August consumer confidence reading should show the full effects of the NSW (and other States') lockdowns, after July (somewhat surprisingly) recorded a 1.5% increase on June.
Offshore, US CPI holds centre stage, following two months of significant upside surprises. Consensus is for annual rates to ease back a touch, if so likely driven by a fall back in used car prices, but remain highly elevated, headline to 5.3% from 5.4% (0.5% m/m) and core (ex-food and energy) to 4.3% from 4.5% (0.4% m/m). The devil will be in the detail.
Market Prices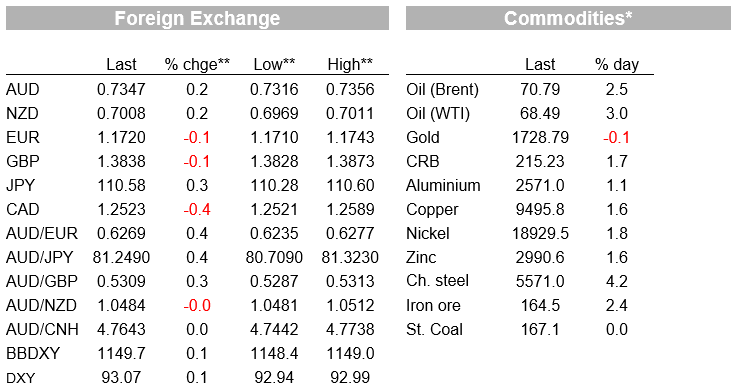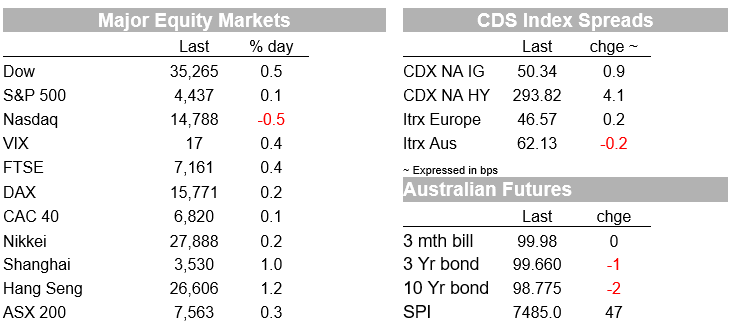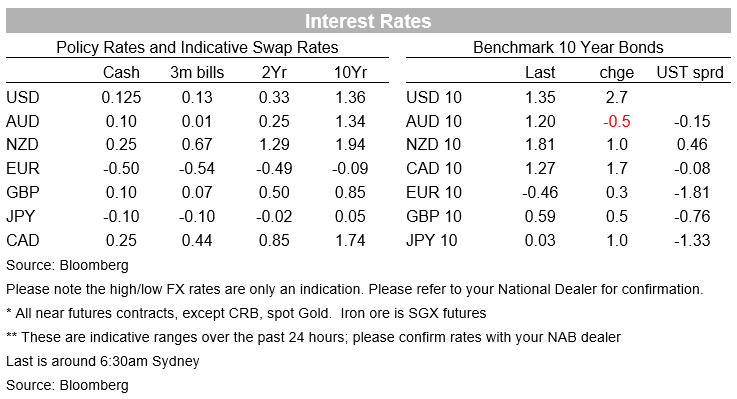 For further FX, Interest rate and Commodities information visit nab.com.au/nabfinancialmarkets
Read our NAB Markets Research disclaimer