Markets Tody: Reflation retreats a little as virus spreads
Risk appetite retreats a little ahead of the non-farm payrolls on Friday and with the Delta strain delaying the reopening of economies, says NAB's Tapas Strickland on today's Morning Call podcast.
Todays podcast
Overview Sleeping Satellite
Quiet night in markets ahead of US Payrolls on Friday; month-end rebalancing too
S&P500 +0.2% (record high) ; US 10yr yield -4.3bps to 1.48%; Brent oil -2.1% to $74.62
Fed speak not market moving, Barkin another who could be persuaded to a 2022 hike
Delta variant concerns spread – Perth in lockdown, South Africa too, others restrict travel
Commodity currencies underperform (AUD -0.3% and NZD -0.5%) with USD BBDXY +0.1%
Coming up today: RBNZ's Orr, German/Spanish CPI, US Consumer Confidence
"Did we fly to the moon too soon?; Did we squander the chance?; In the rush of the race; The reason we chase is lost in romance", Tasmin Archer 1992.
A very quiet night and likely week ahead of US Payrolls on Friday. There was no top tier data to drive, while central bank commentary mainly echoed recent remarks. Concerns around the Delta variant have grown (Perth went into lockdown last night and South Africa has put itself into lockdown), though vaccine efficacy has been proven with the most immediate implication being that a greater percentage of the population will need to be vaccinated (80% including children) due to its higher infection rate. With vaccine efficacy proved, markets can continue to look through to the other side of the pandemic and it is notable even with Delta variant fears, the S&P500 rose 0.2% to a new record high. Some cautiousness was seen in other markets (US 10yr -4.3bps to 1.48%), though this may also be due to some squaring of risk ahead of US Payrolls on Friday as well as some month-end rebalancing (equity outperformance likely means some rebalancing to bonds). Oil (Brent -2.1%) was the biggest mover with fears of a delayed normalisation in activity ahead of OPEC meeting on Thursday.
First to the Delta variant of COVID-19. Concerns have grown globally around the Delta variant with many countries instituting travel restrictions, or restricting travel to those who are now fully vaccinated. Overnight Perth joined Sydney and Darwin in lockdown, and further afield South Africa has also entered a two week lockdown. Given the highly infectious nature of the variant, countries with low vaccination rates may need to employ aggressive suppression – some epidemiologists in Australia say we need to have a few zero days before being able to lift lockdown restrictions instead of the single digits previously. The good news from the UK is that vaccines work with studies finding the Pfizer/BioNTech vaccine reduces the risk of hospitalisation by 96% (Astra Zeneca 92%), though risk of infection is higher with Pfizer/BioNTech reducing infection by less by 79% and AstraZeneca at 60% (see Public Health England for details). That means some people will still be infected after vaccination, but importantly such infections will not be severe enough to require hospitalisation. The risk of breakthrough infections given higher virus transmission though likely means vaccination rates have to be higher than the 65-70% first thought with 80% rates now being discussed with the need to vaccinate children as well.
As for Fed speak, this largely re-iterated the remarks seen to date. The Fed's Barkin, formally dovish leanings, put his hat towards the need to talk about tapering, noting "It's pretty clear to me that we have had substantial further progress on the Fed's inflation goal" and the labor market might "get there in short order, ". That puts a lot of focus on Friday's US Payrolls where HomeBase data has many tipping upside risks to the 700k consensus. The St Louis Fed's modelling of HomeBase suggests a blockbuster 1.5m jobs. Where such a number to be printed that would firm up expectations for a September taper announcement and for the probability of the Fed hiking in 2022. Barkin said he was open to a 2022 hike of the data makes the case "If the numbers hit, great. If they don't, we've got time". Also speaking were the Fed's Quarles and Williams, though their remarks mostly focused on cryptocurrencies and stablecoins – Quarles was sceptical on the need for central bank digital currencies.
Across the pond, ECB speakers sent conflicting signals with debate continuing around whether to taper asset purchases. The ECB's Holzmann and Panetta were dovish, with Holzmann noting on the PEPP that "Once the emergency is over, the program ends" but "at the moment we don't see the end of the emergency". Panetta also noted prior "experience shows that attempting to reduce the pace of asset purchases too early would lead to a tightening of financing conditions and a higher pace of purchases later. " In contrast Bundesbank head, Weidmann said that inflation is not dead and warned of upside risks to price developments being predominant in the euro area. He argued for a reduced step-by-step reduction in the ECB's PEPP rather than a sudden end in the programme, due to last until at least March 2022. Aside from the ECB, the Swiss were also out overnight with the SNB's Maechler saying that the SNB has not started to reduce its balance sheet and that easy policy is still needed and they are not ready for exit.
In FX there has been little movement save for some modest underperformance of commodity currencies. After last week's strong rebound, the NZD has retraced 0.5% to currently sit at 0.7041. The AUD also fell 0.3% and is currently trading at has fallen back to 0.7565. Both the AUD and NZD are trading well short of where our short-run fair value models suggest. Other FX pairs were little changed with EUR -0.1% and GBP -0.0%. Yen showed a little strength USD/Yen -0.5%.
The other mover worth highlighting overnight is the Brent crude oil price, down 2.1%, a mix of the risk-off tone and thoughts of reduced oil demand, alongside possible increased supply ahead. As noted earlier, many countries have tightened virus restrictions (some European countries such as Spain and Portugal have imposed new restrictions on UK visitors and Hong Kong has done the same as new cases of COVID19 increase in the UK). Renewed lockdowns are also in place in parts of Asia, Australia, Russia and South Africa which is likely to reduce oil demand. On supply, OPEC+ meets this Thursday and the Bloomberg consensus expects a 550,000 barrels per day lift in oil production from August.
Coming Up
Domestic focus remains on virus numbers and whether our states/capital cities go into lockdown with the potential for the Delta variant of the virus to have spread beyond Sydney, which is in a two week lockdown. It is also very quiet internationally with the most top tier piece of data being German CPI figures. Outside of that RBNZ Governor Orr speaks on the RBNZ's Statement of Intent for 2021-2024.
AU: Weekly Consumer Confidence: Not market moving, but should show a substantial decline given the Sydney virus outbreak with Sydney in lockdown for two weeks, Darwin in a snap lockdown and other capital cities tightening virus restrictions.
NZ: RBNZ Governor Orr Speaks:Governor Orr is speaking on the Bank's Statement of Intent for 2021-2024. The Statement of Intent is the RBNZ vision/purpose statement, outlining where the RBNZ will allocate resources and develop capabilities in. Unlikely to be market moving, but you never know.
JN: Jobless Rate/Retail Sales: Retail sales are expected to fall -0.7% m/m after declining -4.6% last month.
EZ: German CPI – flash/Euro Confidence Measures: Consensus sees the German Headline CPI at 2.1% y/y with the m/m rate similar to last month at 0.3% m/m. Spain and Belgium also have CPI figures out around the same time, which will give a guide to the wider Euro Area figure tomorrow. Also out are the pan-Euro Area Confidence Measures with all sectors expected to show improved confidence.
US: Conference Board Consumer Confidence/Fed's Barkin: Fairly quiet in the US with only the Conference Board measure of Consumer Confidence scheduled – consensus is 119.0 from 117.2 previously. The Fed's Barkin is also scheduled to speak, though he has given extensive comments over recent days.
Markets Prices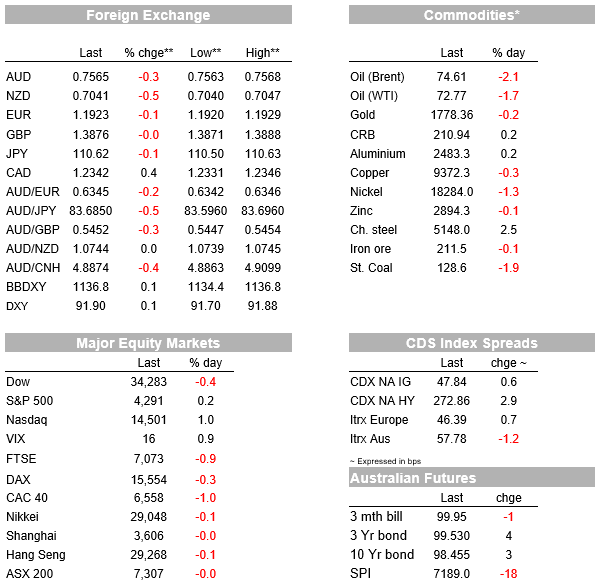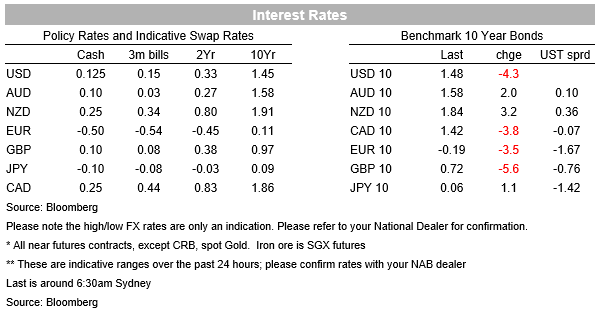 For further FX, Interest rate and Commodities information visit nab.com.au/nabfinancialmarkets