NAB Monthly Cashless Retail Sales Index January 2018
The NAB Cashless Retail Sales Index shows improvement in January following a weak December.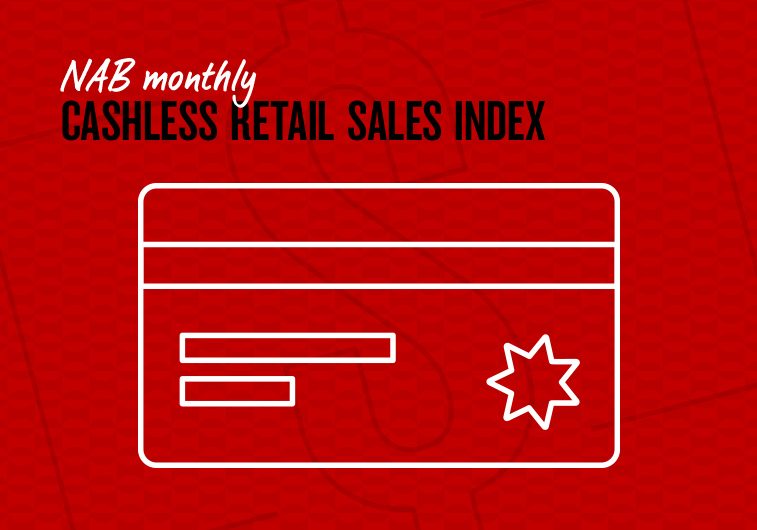 Mapping through to the official ABS measure of retail sales suggests a rise of 0.4% in January after the decline of 0.5% in December and a sharper rise of 1.3% in November. These figures however should be interpreted with caution as they are impacted by changing seasonal patterns, including the shift in the timing of large retail sales which historically have occurred from Boxing Day onwards into January. Consumers now have access to sales earlier in the year with the introduction of Black Friday sales to Australia.
Looking through the monthly volatility, the NAB Cashless Retail Sales Index has continued its moderate slowdown into January in terms of annual growth. Yearly growth in NAB's cashless retail index was 7.5% yoy, compared with much slower growth in the ABS measure. The weaker result this month was driven by decreases across all categories except 'other retailing' which held steady. NAB's series does not include cash payments but includes a larger share of online purchases, a difference which may become more critical as a greater share of holiday season sales shopping shifts online.
Looking specifically at the NAB Cashless Retail Sales Index, spending at cafes, restaurants & takeaways remains the fastest growing category (19.3% yoy). Spending on 'other retailing' (7.8% yoy), and household goods (7.7% yoy) is also solid, while spending on food has slowed (4.7% yoy). Meanwhile, clothing & footwear sales are growing at a meeker rate (2.5% yoy), and spending at department stores has declined (-3.1% yoy). (Charts 3, 7 & 8).
Spending growth has pulled back slightly across the states. NSW (8.3% yoy) and Victoria (7.7% yoy) remain in the lead, with South Australia (6.9% yoy), Queensland (6.3% yoy) and the ACT (6.2% yoy) not far behind. While WA remains the laggard, although the gap continues to narrow (5.0% yoy) (Chart 4).
The NAB Cashless Retail Index is broader than the NAB Online Retail Index and measures all cashless retail spending by consumers using debit and credit cards (both in person and online), BPAY and Paypal. The index is derived from personal transaction data from NAB platforms (around 2 million transactions per day) and offers a 2-3 week lead on ABS retail trade data.
NAB Chief Economist, Alan Oster commented:
"NAB's Cashless Retail Index indicates some bounce-back in retail spending in the month of January after a particularly poor December. In the month of January, both the NAB Cashless Index and our mapping of the "official" ABS measure imply a monthly increase in retail sales in January. This is a welcome change from the negative growth in December.
"However we are reluctant to read too much into the data given the impact of changing seasonal patterns, where the introduction of Black Friday sales to Australia has shifted discount sales and holiday spending forward. The release of the newest iPhone in November was also a contributory factor to this shift.
"Looking through these monthly movements, annual growth in retail spending however has slowed in recent months, suggesting some loss of momentum. In terms of NAB's Cashless Retail Index, whilst overall year-ended growth remains respectable, this slight reduction in growth is evident across the board in terms of all categories (excluding 'other retailing') and all states indicating a systematic shift in consumer spending behaviour.
"While the retail sector continues to struggle, this month's NAB Business Survey reported a slight improvement in retail business conditions. Where results previously have been negative they currently indicate a neutral trend of neither expansion nor contraction. Surprisingly, retail confidence has remained solid despite the weak conditions. The fundamentals for retail spending are also looking a little better, particularly the strong employment growth seen in 2017. Whilst consumption growth late last year was lower than anticipated and wages growth continues to underwhelm, NAB's The Forward View foresees only a gradual pickup in wage growth to come this year as the labour market continues to improve.
"NAB's index is derived from personal transaction data from NAB platforms (around 2 million transactions per day) and includes all cashless retail spending by consumers using debit and credit cards (both in person and online), BPAY and Paypal. NAB's Cashless Retail Index is reasonably assumed to be representative of aggregate non-cash retail sales in Australia given its large sample size. The average growth rate for NAB's index is stronger than the official ABS measure of retail trade given that it does not capture cash transactions, which is why we use our mapping equations to forecast the official ABS measure of retail trade. RBA research suggests 18% of the value of retail trade occurred via cash in 2016. Over time, the growth rates of the two series are likely to come together."
For more information, please refer to the attached report: