August 16, 2017
Satellites and infrared guns deliver hi-tech boost to mango growers
Research trials on two Northern Territory mango farms are investigating the potential of high resolution satellite imagery combined with fruit-scanning guns to improve productivity and farm efficiency.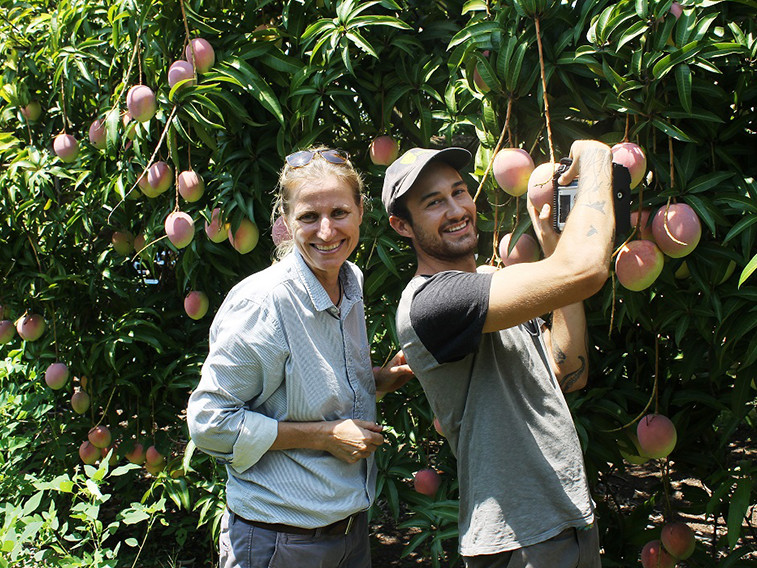 Northern Territory mango farms are the site of research trials now underway combining the latest in hi-tech satellite and fruit-scanning technology to deliver invaluable management data to growers.
Satellites beaming back images from space and infrared guns drawn. It sounds like a scene from a science fiction movie but they're tools being used in tandem in a quest to boost the success of Australia's mango industry.
University researchers, in collaboration with the Northern Territory Department of Primary Industries and Northern Territory mango growers, are combining high resolution satellite imagery with data gathered on the ground using hand-held fruit-scanning guns to map variations in tree health, crop yield and fruit maturity.
The trial research, which is supported through Horticulture Innovation Australia through the Federal Government's Rural R&D for Profit program, is taking place across two Northern Territory farms.
The aim is to use the data to help growers better manage their operations, allowing them to more easily and precisely identify variability in tree health, predict yield, optimum picking times and locations, and ultimately deliver better quality fruit.
The Near Infrared Spectroscopy (NIRS) gun technology, which Professor Kerry Walsh of Central Queensland University conducted extensive work developing, can gauge dry matter content or maturity by measuring the reflectance properties of individual fruit, giving farmers a readout on when to harvest to deliver premium quality. It replaces the traditional method of growers having to pick and cut fruit to measure ripeness. Meanwhile, the images from satellites can deliver a range of information such as tree size and health, fruit number, and potential yield.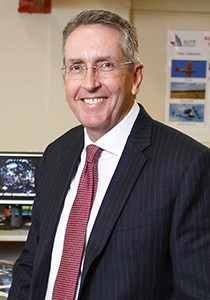 John Lloyd, Chief Executive of Horticulture Innovation Australia, says crop monitoring tools such as the NIRS guns and satellite technology are evolving rapidly and the combination of the two offered great opportunities
for the mango industry, particularly in the Northern Territory.
"For mango farming this remote sensing and automation is very important," Lloyd says. "Nowadays mangoes, particularly those in the Northern Territory, are grown on very large-scale plantations and in quite remote areas which presents some real challenges for growers."
"There's a huge potential for efficiencies through this research and the adoption of new technologies to manage those crops better."
Industry needs identified
Project leader, University of New England Associate Professor Andrew Robson, says the trial complements a wider national initiative. Entitled 'Multi-scale monitoring tools for managing Australian Tree Crops – Industry meets innovation', it is harnessing the combined intelligence of four universities (University of New England, University of Queensland, Sydney University and Central Queensland University), plus government agencies QDAF and DSITI, and commercial operators. Its aim is to investigate technologies for mapping tree health, yield, quality, pests and disease across crops including mangoes, avocados, macadamias and bananas.
Associate Professor Robson – who was this year named winner of the prestigious Poggendorff Lecture Award from the Royal Society of NSW for his pioneering work in remote-sensing applications for agriculture – says the project has brought together experts from multiple research disciplines, industry representatives and commercial providers to collaborate on identifying the key areas the proposed remote sensing project could address.
He says yield forecasting was identified as the top need. It allows growers to determine what an orchard will produce before harvest, allowing them to make more informed decisions around issues such as labour, packaging and storage requirements. At an industry level, data to improve forward-selling decisions was also key as well as the ability to predict the variation of fruit quality and maturity across an orchard and to detect disease and pests.
"Very much the push of the project is identifying what the constraints on the industry are and then working out what technology can provide the solution – not the other way around," he says. "We're looking at different technologies, including satellite technology and technology on the ground like the NIRS guns, robotic and UAV platforms, to identify what technologies best deliver the required outputs and then how best to deliver those 'tools' to the end user."
Along with the farm-level monitoring work, the project has included the development of a national data 'map' identifying the location of all commercial avocado, mango and macadamia orchards using satellite, UAV and airborne images captured over intensive growing locations across four states. Its value, even at draft stage, was demonstrated in the aftermath of Cyclone Debbie in March.
Associate Professor Robson says that within days of the cyclone, industry bodies could determine the number and area of orchards impacted. "[The data] allowed them to immediately liaise with the affected growers to offer support and to establish an estimate of lost production," he says.
Farmers support hi-tech future
One of the growers involved in the mango industry trial, Martina Matzner – the manager of Acacia Hills Farm, a 50,000-tree operation near Darwin – is a champion of the need for continual innovation in agriculture. As part of her management strategy, she's been working on developing the use of NIRS technology to test fruit maturity on her farm for more than ten years.
"I love engagement with the scientific parts of growing mangoes. It's absolutely essential to further develop the productivity and quality on my farm," she says. "Last year we did more than 25,000 [NIRS] shots across the farm leading up to and during harvest."
Matzner says she sees "countless" opportunities for using the kind of data being collected in the trial. "With collaborative research like this we can increase the productivity and quality of our NT mangoes," she says.
"Technology for our farms and smarter farming is absolutely crucial. I think it will make farming a more attractive business to work in and I want to be part of that."