Small town, big potential: City folks' tree change
Moving to a regional town might seem a career-limiting step but for entrepreneurial Australians with an eye for untapped market opportunities the opposite can apply. Business View meets two former city-slickers achieving success in country Australia.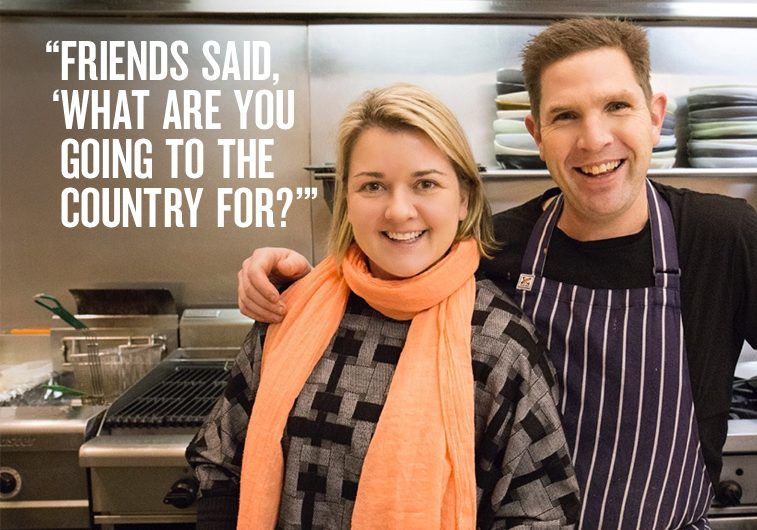 Making the change: Restaurateur Sonia Anthony and husband Nick Anthony, co-owners of Masons of Bendigo.
Relocating from the city to a regional town can prove a business boon for smart entrepreneurs who tap into the opportunities. We spoke to two small business owners who've done just that: restaurateur Sonia Anthony and PR expert Liane Sayer-Roberts.
Sonia Anthony
Co-owner, Masons of Bendigo, Victoria
Modern Australian cuisine in industrial chic surrounds on a Saturday night in … Bendigo? Only if you've booked two weeks ahead, says restaurateur Sonia Anthony.
A chef whose CV includes providoring and chef experience from London to Southeast Asia, Anthony has been rushed off her feet since opening Masons of Bendigo in 2012 in her husband and fellow chef Nick's hometown in regional Victoria.
"We spent three years working in Singapore and came home knowing we wanted to settle in Bendigo," Sonia says. "We took our time looking for premises and 12 months later took over a space in the CBD which became Masons."
Named in honour of the lead-light manufacturer and glazier previously headquartered on the site, the venue comprises a modern Australian restaurant seating 65 and three function spaces. Open for lunch and dinner Tuesday to Saturday, Masons plays host to conferences, celebrations and a steady stream of diners happy to drop an average $100 a head on Nick's ultra-fresh, farmgate-to-plate fare.
Did the decision to open an establishment with capital city chic raise eyebrows in the foodie world five years ago?
"At the time, a lot of our friends said, 'What are you going to the country for?'" Sonia says.
"For us, there was just an amazing sense of community in Bendigo and central Victoria – a real sense of place. You know who grows your food, you know who makes your wine, you're connected in that way. We knew from the beginning our focus would be on local ingredients, forging direct relationships with Victorian producers and winemakers and championing what was here. We'd seen amazing things on offer in Singapore from around the world but what's produced right here is of equal quality, and we're passionate about promoting that as much as we can."
It's a recipe that's found favour with diners from near and far. Around 80 per cent of Masons' business comes from repeat customers, many of whom make the 90-minute train ride from Melbourne to take in an exhibit at the Bendigo Art Gallery and feast on Nick's 'roaming menus'. The latter feature signature dishes, including chicken and ginger steamed dumplings, tempura-fried Moreton Bay bug tails and san choy bao duck spring rolls.
"Bendigo's moved beyond the traditional country town fare of the fish and chip shop, the bakery and the milk bar," Sonia says. "We've got cafes and restaurants here that rival any upmarket Melbourne joint. Lots of people are doing their thing, and doing it really well, and it creates a sense of excitement for visitors to our town. We're fortunate that people have embraced our ethos by coming in and coming back and dining with us. For us, it's a great time to be in business in Bendigo!"
Liane Sayer-Roberts
Founder, Sauce Communications, Leeton, NSW
Relocating in 2004 with her then-husband from Sydney to the NSW country town of Leeton – population 6733 – saw communications professional Liane Sayer-Roberts initially at a loss as to where she might find interesting work. But not for long.
Her decision to take a year's leave without pay from a government role and start working freelance for a handful of  clients opened her eyes to the potential for a regionally-based PR consultancy targeting agribusiness clients.
Thirteen years on, Sayer-Roberts is at the helm of Sauce Communications, a thriving PR firm with offices in Sydney, Canberra and Melbourne as well as its headquarters in the bush. Several of her team are former city dwellers who've followed partners to the country and been delighted to find an opportunity to continue their professional careers.
Sauce delivers services including events management, communications strategy and stakeholder engagement to a slew of government agencies and agribusinesses including SunRice, Australia Post, Australian Pork, Victorian Farmers Federation and the Rural Industries Research and Development Corporation.

A moment in time: Liane Sayer-Roberts (fifth from left) with her team in 2016 in the Riverina town of Leeton, NSW, where the agency is headquartered.
The firm was named 2017 and 2016 Australian Medium Consultancy of the Year by the PR Institute of Australia, 2015 Australian Medium Consultancy of the Year by CommsCon, and has received several NSW State Awards for Excellence.
Far from being an impediment, Sauce's rural location is one of its biggest selling points, says Sayer-Roberts.
"Back when I started, the idea that you could work remotely in an effective way, using technology and common sense, wasn't widely accepted," she says.
"For a while I operated as if I were based in the city but around two years in, when the business had begun to gather some momentum, I started to see the opportunity we had to carve out an incredible niche. There's a stack of opportunities to work with businesses that want to reach rural Australia; once we refocused on that market, everything started to fall into place and from that point onwards we really embraced our location.
"We've built our reputation as a rural business that helps other regional and rural businesses tell their stories, as well as one that connects organisations with rural markets – it's our defining factor and one of our biggest strengths."
The growth of online communications in recent years has helped dispel concerns city clients might have about the practicalities of working with an out-of-town PR consultancy.
"Even if you're both in the city, it's not as though you see your clients every week and we've become adept at communicating with them in other ways," Sayer-Roberts says. "Once we've had a month or two working together and refined that, it solidifies the relationship and the communication, going forward."