The ultimate textile
Sixth-generation farmer Charles Downie has managed Glenelg Estate through a period of drought and active stock reduction, to a flourishing flock producing some of the world's finest fleece.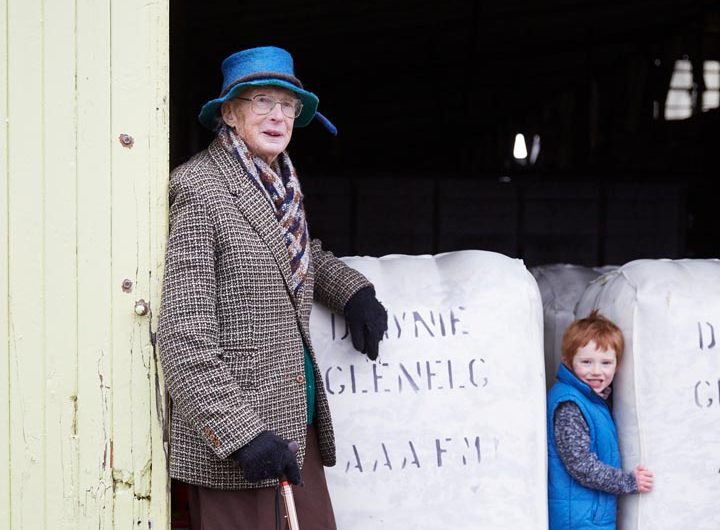 The cool, dry climate of the Tasmanian highlands, home of Glenelg Estate, is the ideal place for a merino flock to flourish. Couple this with a sixth-generation family estate, a sustainable ethos, and a world-class breeding program supported by technology to produce superior fleece – and you have a story worth selling to export markets.
The Downie family has managed Glenelg Estate in Tasmania's Central Highlands for six generations, actively managing a merino flock which is uniquely adapted to the environment and now produces some of the world's finest fleece.
Charles Downie, owner and manager of Glenelg Estate, with his wife Sally and parents Andrew and Christine, has continuously invested in technology to test and produce the finest fleece possible for export.
"It's a commercial paddock operation, not a shed operation, and that affects quality," he explains. "There are various measures such as fleece weight and body weight and we're getting record scores on young sheep. In 12 years we've moved the flock from 18-19 micron to around 16 micron without sacrificing fleece weight."
Merino wool is a natural, biodegradable and renewable product and merino sheep grow an entire new coat each year. The fibre itself has unique properties: it's soft, comfortable, naturally elastic, breathable, warm and cool. It also has other marketable qualities, such as being machine washable, anti-wrinkle and odour resistant, as it contains natural anti-bacterial properties. All of these characteristics make it the 'ultimate textile' greatly valued by garment manufacturers.
Subtle differences in class
As a textile export, European markets, in particular Italy, have the highest demand for merino fleece as manufacturers and clothing designers there require the finest quality and appreciate the subtle differences. Since moving their production to fine wool, Glenelg Estate has received repeat business from Italy.
The business has differentiated itself by providing a product that discerning markets want: the finest fleece with a high level of softness that can be worn against the skin. The breeding technology now available allows Glenelg to accurately select for the traits that matter, ensuring they don't have to compromise. Downie and his team are able to identify and breed from superior sheep, so they generate superior wool.
Selling successfully in selective export markets involves having not only a quality product but receiving both accurate and high classification. Discussions with top wool brokers have ensured their fleece is classed according to strict buyer specifications and, to their export advantage, Glenelg Estate's fleece has been graded highly, rewarding their investments in producing quality superfine textile.

Protecting Tasmania's natural beauty and resources
 The Derwent River in Tasmania's Central Highlands, home of Glenelg Estate, is one of the driest parts of Tasmania, and the health of the landscape is always at the front of the Downie family's mind. For six generations, the family has taken the view that they are land stewards, not owners, with a view of leaving the environment in a better way than they found it.
"Glenelg's objective is to produce quality products that secure repeat business from our customers, while ensuring that the environment is respected and cared for," explains Downie. "We consider the consequences of our actions over decades, not years."
The business has partnered with several organisations in recent years to carry out works to improve the environment, such as Greening Australia, Natural Resource Management (NRM) South and Landcare.
Projects have included fencing to exclude stock from the banks of the Derwent River (the water supply to the city of Hobart); covenanting and protecting areas of remnant bush; fencing and planting trees along creek lines; and fencing steep hillsides to avoid overgrazing.
These actions have allowed them to promote the environmental qualities of the textile itself, which thrives in the natural environment and can be grown again each year.
"Merinos are ideally suited to our dry, hilly environment, and Tasmanian merino wool is becoming recognised for its unique environmental credentials and quality," says Downie.

A valuable story
Glenelg Estate has recently commenced discussions with an Italian processor, about an idea to follow the wool through the production pipeline to the end consumer, differentiating and positioning their wool through sharing the story behind it: a sixth generation family business with a sustainable operation in the heart of beautiful Tasmania. Through marketing the story they're hoping to create demand and value for everyone: their business, the processor and the end consumer.
"Society wants to know more about the origin of its products, and that is an opportunity for us," says Downie. "Wool has a long production chain, but Glenelg has a good story which differentiates us, and I thought the end consumer may be interested in knowing where the textile they're wearing came from, and that there is an opportunity to affect value through the process."
The family's broker spoke to the buyers to see if there was any value in sharing the Glenelg Estate story down the manufacturing line. "I had considered it for a couple of years, how we might do it, then I approached our broker and started the conversation," says Downie. "With a brand story supporting the textile, the value is about more than having a fine product. We hope the story of the wool behind the clothing can ultimately add value to all the links in the supply chain."
More from NAB: