Spikes in demand: preparing
A big order could completely transform your business but there's a limit to how much anyone (or any small business) can handle. BDO partner Dr Mark Pizzacalla and Total Image Group CEO Pamela Jabbour discuss preparation, parameters and being strong enough to say 'no'.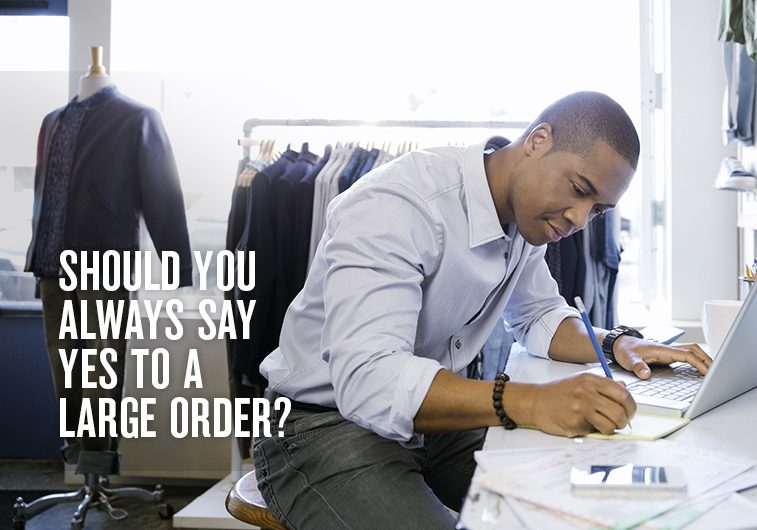 A huge order arrives out of the blue. It's the boost your growing business needs… Or is it? Could it be a recipe for disaster?
When Pamela Jabbour, CEO of Total Image Group, won a contract to dress a leading retailer's 20,000 employees, she'd only been in the uniform business for less than a year, and her biggest client had just 300 staff.
"I knew it was a real opportunity to put Total Image on the map and had the potential to totally change our business," Jabbour says. "I was confident with our product, design and manufacturing ability and I was sure we could work quickly to pull together the rest – that we would do whatever it took to nail the execution. I have to say I didn't think through all the details of how we could make it work until we won the contract, but I did know that a uniform rollout on this scale doesn't happen overnight. Our presentation built in sufficient planning time to ensure everything could be executed well."
Jabbour's first step was to identify and plan for each stage of the process.
"Once we'd documented all the steps we were able to put a resource strategy in place," she says. "This included putting on additional people and investing in technology to coordinate orders of this volume. We managed to deliver 60,000 shirts on time and the client was really happy."
"A significant, unexpected sale is something business owners dream about but, if you can't meet the requirements or you make promises you can't keep, there could be serious damage to your reputation," says Dr Mark Pizzacalla, Partner-in-Charge of accountancy firm BDO Melbourne's Business Services practice. "Before you commit you need to be reasonably comfortable that you've got appropriate processes and procedures in place and capacity to meet that demand."
Reasons for a surge
A successful pitch isn't the only reason for sudden upsurges in demand. Some unexpected boosts have been triggered by natural disasters, for example. Last year, when Hurricane Maria devastated America's primary supplier of bags for intravenous fluids, manufacturers in Australia and around the world were asked to step up production to help satisfy the shortfall.
A product can also 'go viral' overnight, as when Fanny Barlow, owner of Brisbane's Mermaid Salon, posted a make-up brush on Instagram that caught the eye of leading beauty bloggers. They reposted the image to their followers and within six minutes the brush had not only sold out, but Barlow was flooded with orders from around the globe.
"There's only so much you can do to prepare for, and respond to, this kind of event," Pizzacalla says. "You might be able to find contract workers to help with certain aspects of the job, but you shouldn't invest in expensive resources unless you're confident the demand will continue."
He believes that establishing your risk appetite is the most important preparation.
"This is one of the key strategic issues that should be included in every business plan," he says. "Everyone has a different tolerance to risk so there's no right or wrong approach, but you should set your own parameters around what you will and won't take on. That will help prevent a knee-jerk reaction to a big order."
Jabbour's policy is never to pursue an opportunity unless she can guarantee total commitment.
"Otherwise there's a danger that the account would be poorly serviced," she says. "That has the potential to tarnish our brand and reputation and it could present a financial risk to the business."
Will you be paid?
Before agreeing to any order, you should take steps to ensure you'll be paid.
"If you've never dealt with the customer before, you must do everything you can to ensure they're above board," Pizzacalla says. "This can include your usual credit checks, talking to your contacts in the industry and searching online for anecdotal evidence. You might also want to ask for a percentage of the costs upfront."
There are times, however, when you just have to say no to even the most tempting offer.
"It's never easy to walk away from a big order," he says. "But, sometimes, it's the best thing you can do for the long-term health of your business."
Five ways to prepare for the unexpected
Build trust with your employees. "A big order will put your people under pressure," Pizzacalla says. "If they can trust you to treat them fairly, they'll be more willing to put in the extra effort."
Form relationships with your competitors. According to Pizzacalla, "it's been known for competitors to collaborate on projects too big for either to handle on their own".
Be clear about your current capacity and appetite for risk. When you have clear, written parameters, it's much easier to make a decision you won't regret.
Never forget cash flow is king. Whether you're buying, selling or running a business, you need to understand your cash flow situation before making any major decision.
Consider your funding options. If you need to buy more stock or expand to cover an increased demand, consider talking to a business banker about assistance.