Happy campers: how holiday memories sparked 'Airbnb for caravans'
Fond childhood memories combined with a holiday hitch inspired Justin Hales to create Camplify, the fast-growing caravan-sharing startup proving a winner in Australia and now taking on the UK.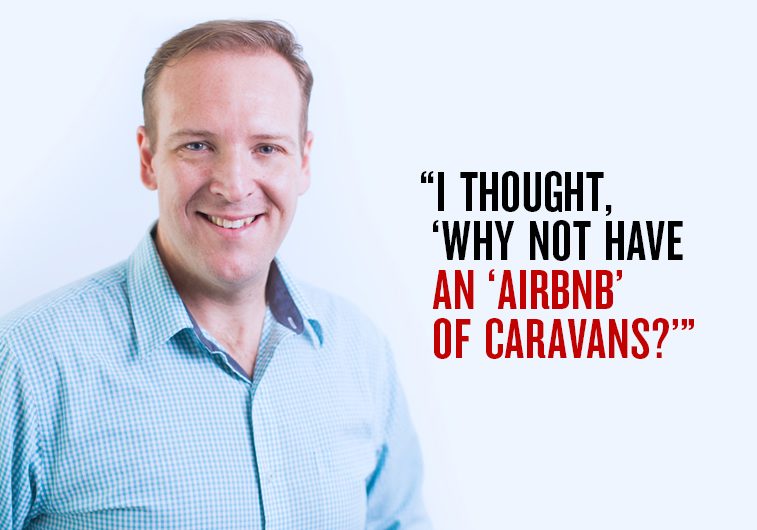 It was one brief moment back in November 2014 that sparked the idea for Camplify, the fast-growing caravan-sharing startup described by founder Justin Hales as 'the Airbnb of caravans'.
With fond childhood memories of family caravan park holidays, Hales wanted to hire a van to relive the experience with his wife and children – but everything was booked out.
Observing the underused caravans parked around his neighbourhood, Hale decided it would be great to connect caravan owners with people, like himself, who just want one for a short time.
Today, Camplify is doing just that. It has 2,900 (and counting) vehicles, from motorhomes and camper trailers to classic VW combis and even 'tiny homes', listed on its peer-to-peer caravan-sharing website, with 20,000 hiring members around Australia. Global expansion has also begun, starting with the UK.
Business View spoke to Hales – a former business analyst for a mining software company – in his hometown of Newcastle about the growth of the business, and his passion for caravanning.

Tell us how your love of caravanning began.
 I grew up in New South Wales' Hunter Valley, in Kurri Kurri, and every holiday my whole extended family would go to the caravan park on the break wall at Port Macquarie – aunties, uncles, cousins. We'd always get the same row so we were all together. It was a lot of fun – real family time, great memories.
What was your vision for Camplify?
 Essentially to connect people who have a caravan, motorhome or camper trailer sitting around with people who want to hire it and take it away on holidays. For many people owning an RV [recreational vehicle] isn't practical, but they love the idea of hiring one when they want to use it. On the flip side, you have people who've invested a lot of money in these vehicles but only use them a few weeks a year. It's crazy. This is a win-win situation for both sides. The owner gets to pay off their van, earn some money, and the hirer has the freedom to choose. I was already a fan of the sharing economy – we'd travelled around Europe using Airbnb and it was great. I thought, 'Why not have the same thing for RVs: the Airbnb of caravans?'
What was the next step?
 The idea was kicking around in my head for about a month and then I heard the NRMA was involved in a business accelerator program called Slingshot. It was looking for ideas that were a good fit with the NRMA business and 'Road trips' was one of the pillars. We had two weeks to apply so my brother-in-law and I put together a business plan and a website and started to map out what the messaging was going to be, pre-registering people for when we launched. We put some Facebook ad money, $100, behind it to see if people would sign up. The application went in and we were lucky enough to be selected as one of six out of 160 applicants. We got $30,000 funding and went through a 12-week program that helped us flesh out how the business would work and start building our tech platform. We launched our first minimum viable product in August 2015 with 20 RVs on the platform.
How did that launch go?
 The platform was very minimal. We were doing a lot of the work manually in the backend while we worked out the features needed for our customers. What are they going to want to do? How are they going to act? What do they expect the system to do for them? By December we were up to 100 listings and realised we needed to build a better system. We launched the second version of our software in June 2016 and then it really started to take off. By December 2016 we'd grown to 1,200; now we're about 2,900, and our hiring members are up to 20,000. Our growth is about 20 per cent month on month. We could see straight away there was huge demand for the service and it was just about refining it, understanding our customers better, and continuing to improve. In February, ASX-listed Apollo Tourism & Leisure invested $1.75 million in us and we've been able to invest that back into the product and marketing.
Has your vision for Camplify changed much since that initial idea?
Not really, but it has evolved. What has surprised us is the variety of ways people use it. We thought it would just be people going on holidays but we have people building homes who need somewhere to live on their property, people going to festivals or sporting events that want RVs to stay in, or people having guests who need extra beds at their house. We're not just a holiday service, we're an accommodation service. But the fastest-growing segment is young families – couples with young kids who want an adventure.

You've recently launched in the UK. How's that going?
We officially launched in the UK in August last year for people to list their vans. We have 421 RVs so far and opened it up to hirers last October. We have a UK manager who's very experienced in the industry. We've started there but we're also looking at other countries through Europe.
NAB's been with you the whole time?
Whenever we had a business challenge, the NAB team's been there to give us advice and we've been able to scale our business using their expertise. Key for us was having a very good payment gateway platform so we could process the payments and have the money in our van owners' accounts the next day. NAB's process has made that simple. The next evolution of our business is looking at foreign currency transactions and the NAB team has begun to help us with that.
What are your main priorities now?
Our immediate priority is this summer – it's going to be big. It's always busy in school holidays but Christmas time is crazy. For January, we're looking at a million bucks. But as well as that, we're focused on how can we help the UK market grow, and what the next country will be.
This article was first published in Business View magazine (Issue 24).