Purple is the new black: Why consumers can't get enough of Bridestowe Estate lavender
A once-neglected lavender farm, Bridestowe Estate is today a global tourist destination, celebrated for the romance and colour of its 200 kilometres of blossoming lavender rows.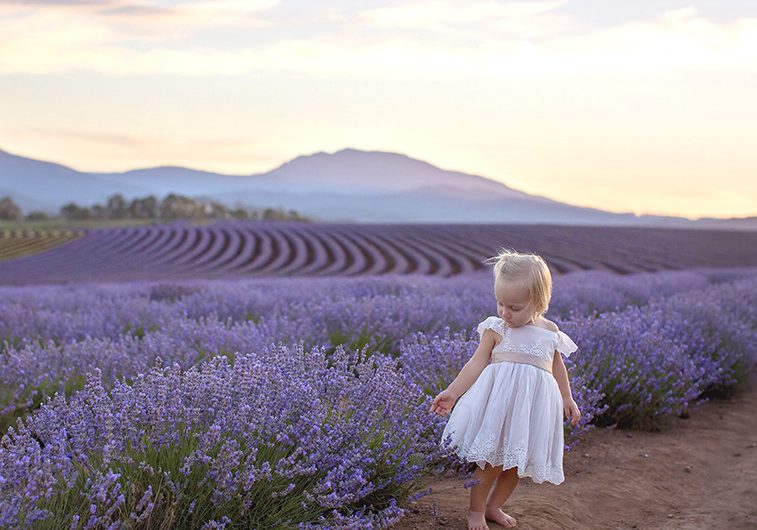 It is owner Robert Ravens' determination that has evolved the business from a century-old perfumed oil supplier to a thought leader in agricultural product diversification, leveraging the power of social media.
Since buying Bridestowe Estate in 2007, Robert Ravens has transformed the property into a celebrated Tasmanian icon, world-class tourist destination and global brand, offering an exciting range of creative lavender-based products, starring a much-loved purple bear that's proven to be a hit on Australian and Chinese social media.

A decade is a long time in agribusiness and none can attest to that more than Robert Ravens, the ex-CEO who purchased Bridestowe Estate and in ten years has transformed the property to self-proclaimed 'agricultural perfection' while building a globally-recognised brand. Last year Telstra named it the 2016 Telstra Tasmanian Business of the Year.
Domiciled in Sydney and an industrial chemist by trade, Ravens purchased the property in 2007. The estate's history began when London perfumer CK Denny in 1921 brought with him from the Southern French Alps a collection of fine lavender seeds.
Ravens had a vision to restore the property to its previous grandeur and create an unforgettable tourism experience. It was no small task, requiring significant capital to overhaul the crop, the latest technology to refine the agricultural process, and creative thinking to develop enchanting lavender food, beauty and novelty products.
A labour of love
It was more hard work then even Ravens had imagined, but his passion for the property kept him going.
"I was charmed by the romance and history of the place and the feeling it gives you to walk around it," explains Ravens. "I wanted to take it on and bring it back to what it once was."
In reality, the project was less about romanticism and more a hard lesson in reality – requiring grit, determination and vision. By first restoring and refining the crop and processing capability, Ravens set
about stabilising Bridestowe's main production channel and brand foundation – lavender oil – ensuring it was well placed to meet export, tourist and customer expectations.
The process was a true labour of love for Ravens, involving major replanting into its iconic curved rows, investment in significant agricultural equipment and establishing an annual weed management program. It was an end-to-end overhaul that, for those with a technical understanding of agriculture, Ravens declares is now close to perfection.
"It's been an interesting challenge to reduce the weed loading and replant the agricultural stock," explains Ravens, adding that his farm specialises in fine lavender, which is genetically pure Lavandula angustifolia grown at least 800 metres above sea level. "It's now the largest collection of fine lavender plants in private ownership anywhere in the world, untouched by external contaminates for nearly 100 years. It's beautiful and bigger than anything we've seen in any country, including France."
So beautiful in fact that, when visiting France a few years ago, Ravens discovered that many pictures of supposedly French lavender fields on tourist shop posters and post cards were actually images of his own Bridestowe Estate.
"Bridestowe is a uniquely beautiful place, and our curved rows are iconic, so one could consider it flattering," he laughs.
Building a Tasmanian tourist destination

With the agricultural foundations in place, Ravens invested in building the estate into a complete tourist destination, including fine food cafe, gift shop and the opportunity for guests to walk the fields to view and take pictures of the lavender.
He also diversified the product range for sale at the gift shop and cafe, foodstuffs underpinned by lavender, including lavender blueberry jam, ice creams and teas, of which his customers can't get enough.
"Everyone loves what we produce; for us, putting lavender oil into products as a fragrance, or a flavouring component into foods, has proven to be phenomenally successful," Ravens says.
Bridestowe's retail products are also distributed through its online store, and domestic and global retail outlets, while the lavender oil is sold wholesale directly to manufacturers. Sales across the range are growing steadily year on year, according to Ravens, along with the brand's reputation for uncompromising quality and authenticity.
With Bridestowe now attracting over 50,000 tourists each year, Ravens plans to further enhance the estate, enabling tourists to experience the best of Northern Tasmania in one location. To do this he is investing in expanding his front of house, systems, team and facilities, while keeping the essentials in place.
"We have an image and we maintain that very enthusiastically," Ravens says. "We completely reshaped the business into a farm of global reputation with very strong financial performance. Now we're planning to build on that."
Lavender by any other name
When Ravens took on Bridestowe the retail brand itself was almost non-existent, with a legacy of supplying its fine lavender oil wholesale to the world-renowned Yardley perfumes.
In the early days, buyers were impressed by the product quality, however over time referred to it as 'Tasmanian Lavender' rather than Bridestowe Estate. Ravens embarked on a revival strategy to remove any reference to 'Tasmanian Lavender' or 'Yardley' and reinforce Bridestowe Estate at every opportunity
His work on the brand included producing a professional visual identity and online presence, while refining product packaging to lift the prominence of the Bridestowe Estate brand.
"Branding is critical," explains Ravens. "We did some great early design work so it looks ultra-professional. At the farm you'll see these incredibly curved rows that follow the land's contours and our logo was created to reflect that. There's a great synergy between the logo and our image."
About a bear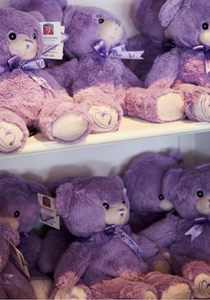 Bridestowe's 20,000-plus Facebook followers enjoy regular updates on the crop, new product launches and heart-warming pictures of children enjoying treats from the cafe and running through the fields. Its Instagram page overflows with pictures of scones with lavender jam, quaint tea sets, farm cats and guinea fowl, pancakes topped with lavender and blueberry syrup and ice creams dripping in the summer sun. A recent picture of a starry night over the fields received over 4,000 likes and, on Pinterest, delicious recipes are shared along with more vignettes of the farm.
Perhaps even more famous than the estate and its products is Bridestowe's very own purple bear Bobbie: a small, lavender-stuffed soft toy developed as a novelty heat pack, for sale in store and online. Celebrities across Asia, including the Chinese president, have had posted photographs of themselves with Bobbie on social media, creating a viral sensation which generated some 40,000 unit sales of Bobbie in one year (and many hundreds of thousands of fluffy purple counterfeits).
Bobbie now has his own animated TV series, produced through a joint venture and distributed globally by the ABC (yet to be aired in Australia) featuring the young bear's adventures around the farm, making mistakes along with new friends. The TV series drives strong global demand for Bridestowe's retail products, while adding a warmth and irreverence to the brand to attract younger generations.
Magic and romance create global influence
With growing global demand for both the wholesale and retail arms of Bridestowe, the business is investing in onsite manufacturing capability for smaller volume products and interstate manufacturing for the larger volumes. The biggest sellers at the moment are the Bobbie range and their lavender speciality teas, while the tourism side of the business continues to grow.
"Tourism demand has been growing at a remarkable rate, at least 25 per cent compound over the past nine years, so it's not sustainable unless we do things differently," reflects Ravens.
Passionate and proud, Ravens is excited about the future for Bridestowe Estate.
"I'm proud of having revived an amazing business, created a brand and given it a future," he comments. "The romance, the sheer magic of the farm is extraordinary … that a remote location in Northern Tasmania could create a business which has global influence is almost impossible to believe."