Riding the Mexican wave
Launching a casual home-style Mexican restaurant in Swan Street, Richmond, in 2011, Fonda now has four restaurants in Melbourne with 160 staff and annual turnover of $15 million.

Launching a casual home-style Mexican restaurant in Swan Street, Richmond, in 2011, Fonda now has four restaurants in Melbourne with 160 staff and annual turnover of $15 million. With Flight Centre Travel Group co-founder Geoff Harris investing in the business, there's plans to take the concept interstate and possibly global.
Mexicans use the word fonda to describe a place where people enjoy cooking that comes direct from a family's living room or kitchen. Food served in a fonda is fresh, cheap, locally sourced and embodies the widespread greeting "mi casa es su casa", ("my house is your house").
For David Youl and Tim McDonald, the moniker 'Fonda' embodied the style of restaurant they dreamt of opening. Four years after realising their dream, they've opened their fourth location in Melbourne, dishing up simple, healthy Mexican fare. There are now Fonda Mexican restaurants in Flinders Lane, Hawthorn and Windsor as well as the original Richmond site.
The pair first met through mutual friends while studying: McDonald at Monash University and Youl at the University of Melbourne. On graduation, McDonald spent a year working as a lawyer at Minter Ellison while Youl continued to work as a fireman. Youl was tiring of the shift work at the fire brigade while McDonald yearned to do something entrepreneurial. "The whole concept of creating something and being in control of your working life, and therefore your life, was something that had always appealed to us," says McDonald. "We weren't scared by the risk you are taking in starting something nor were we swayed by the prestige and safety net of the corporate life."

The Tex-Mex trend
McDonald had been mulling over the idea of starting a Mexican restaurant since 2007 when he spent a semester studying in California and noticed a new style of Tex-Mex restaurant becoming popular. "The vision I had initially is very close to what Fonda is now – it's quick, fresh, healthy and high-quality Mexican food," he says.
With very few responsibilities, the pair felt comfortable about venturing out on their own. The start-up capital came from a combination of personal savings, family loans, credit cards and some equipment financing. Long before the first taco was served they spent a lot of time testing recipes and planning the business. This included going to existing Mexican restaurants and asking customers to fill out surveys detailing their experience, collating feedback that helped hone their business model.
Getting that first lease proved tricky. "We were two 27-year-old guys with no Mexican [cuisine] experience, no hospitality experience, just an idea on a piece of paper and most landlords aren't really keen to offer up their site to you, so we faced a lot of rejection and were very restricted with the sites we were offered," recalls McDonald.
They ended up taking a lease at 248 Swan Street, Richmond, becoming part of the new wave of fashionable operators opening up in the street. "We thought it was a C-grade location but it ended up being an A-grade location," says McDonald.
The name 'Fonda' came from a cookbook, Jim Peyton's The Very Best of Tex-Mex Cooking, they'd bought online while testing recipes. The former chef lives near San Antonio, Texas, so they emailed him to ask if they could swing by while they were in the US and Mexico on a research trip. On the front page of the book was a black and white photo of an old house with a sign 'FONDA'.
The word struck a chord. "The whole essence of being a home and offering a homely experience resonated with what we were trying to create," says McDonald. "It's that warmth, casualness, unpretentiousness and really good quality home-cooked Mexican food made fresh to order. And not just the name but everything that came from that as a brand story. Our customer service, design, location, pricing and the way we produce our product is very much linked to the essence of what a 'Fonda' is."
Fonda's marketing strategy centres on the customer experience with the belief that a great customer experience will result in positive word-of-mouth and the rest will take care of itself. "We have a very small social media budget, we don't advertise, we put all of our money into finding, attracting, engaging and retaining really great staff that interact with our customers really well, putting money into our fit-outs and really good quality ingredients," says McDonald. "And if you do that, people come back and they tell their friends, which is the most effective marketing we can ask for."
Working with Melbourne-based Techné Architecture + Interior Design, each of the fit-outs cost about $1 million. Branding is kept to a minimum to help create the feeling you're in someone's home rather than a restaurant. "Our food quality and interior design is more typically found in high-end restaurants," says McDonald. "We're still a pretty casual, quick service and reasonably priced concept, so although they are very trendy fit-outs and the food quality is there, the food comes out pretty quickly and it's affordable."
Australians get a taste for Mexican
The time was certainly right to open Mexican restaurants. Youl and McDonald tapped into the zeitgeist, opening Fonda at the time gourmet Mexican was becoming the 'cuisine of the moment' in Australia. While McDonald and Youl had their concept well before the interest in Mexican food became apparent, they waited for it to hit before acting. "Not that I was the only one, but I could see that the wave was about to happen," says McDonald. "If you went to LA or Texas and saw how big Mexican was over there six to eight years ago, you could see it coming. Australians love Mexican, we always have, but there was very little around. When the wave hit we weren't one of the first but we were very early. We didn't execute on it until we knew the wave was breaking."
McDonald attributes this interest in Mexican food to one simple fact: it's fantastic. "It's a healthy cuisine, it's tasty and nutritious, so effectively, it's just another option of eating meat and vegetables with minimal bread in an exciting sexy cuisine," he says. "There's a lot of operators presenting into the market in a really creative way that's healthy and accessible price-wise, so people are eating it quite frequently."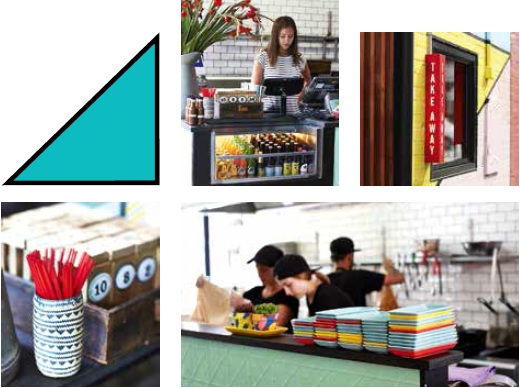 Taking on a third business partner
For McDonald, the biggest challenge in running Fonda is adapting to an evolving role as the business grows. His various roles have included market researcher, product developer, restaurant designer, waiter, property manager and now business manager. "You can see a drastic difference between working on a little start-up to a $15 million business that employs 160 people," he says. "We're kind of on our own and have to work it out for ourselves. Dave and I are ultimately accountable and that's definitely challenging but also makes it exciting. It's really up to us to be self-disciplined."
They have a couple of business mentors including chocolatier Shane Hills, founder of the Koko Black chocolate stores, and Geoff Harris, co-founder of Flight Centre Travel Group, who recently bought 25 percent of the business and has come on board as a director.
"At Flight Centre, Geoff's effectively ridden the business lifecycle journey from being a founding director to being front-and-centre in a large publically listed global company, so he's someone we can now go to for advice and mentorship on how we should be performing," says McDonald. "And that mentorship is crucial, it's great when you're young, confident and going for it, but at the same time you have to remember that you're young and you don't have the benefit of hindsight or experience – you've got to seek advice."
After reading Family Village Tribe, a business book documenting the inner workings of Flight Centre, McDonald reached out to the travel agency's Chief Executive Officer, Graham Turner, who sent the email to Harris. Shortly after receiving the email from Turner, Harris called and they organised to meet up for coffee the next day.
Harris, who gets several offers a week to invest in fledgling businesses, says he was immediately impressed with Fonda. "Tim and Dave are both young guns with a small start-up that had clearly worked, but needed capital and experience to take it to a medium-to-large multi-outlet business," says Harris. "This is a growth model with great potential. I also liked that the founders have great values and we all wanted a company only and not a franchise model, and I love the 'fast casual' concept."
One way Fonda is following the Flight Centre model is by keeping all stores under company ownership and not franchising. Store leaders have a profit share so they are incentivised to care about the profitability of the business.
The grand plan
The five-year goal, according to Harris, is to have 23-company owned Fonda outlets with a $62 million annual turnover delivering a healthy $9.32 million in profit. "After this we are considering multi-cuisine brands, a faster expansion rate, and growth within Australia and maybe overseas," says Harris.
Apart from additional stores in Melbourne, the next Fonda restaurants will open in Brisbane and Perth – two markets identified as potential hotspots.
"People in these states have the time and money and want to enjoy good food and drink," says McDonald. "We've been spending the past two or three years really finding our feet and finding out who we are and what we do well and what we don't do so well. Later this year we'll ramp up plans to open interstate."
This article was first published in Business View magazine (Winter 2015). For more articles and interactivity, download the iPad edition of Business View for free via our app, NAB Think.
More from NAB: