A new age of sustainability at Australian Catholic University
The world's first sustainability bond from a university is funding a better future for students and for vulnerable communities.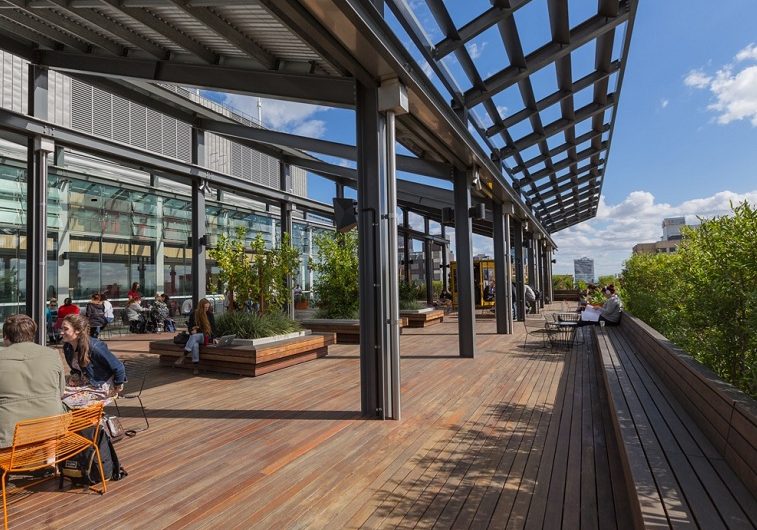 Watch the video to learn more about how NAB helped ACU turn an urban campus into a sustainable future
When Scott Jenkins, Chief Financial Officer at Australian Catholic University (ACU), was planning his ambitious $700 million 10-year infrastructure funding strategy in 2017, he had two key priorities in mind. Naturally, getting the right tenor of funds at the right price was a significant consideration. But equally important was to fund on the basis of ACU's brand essence – impact through empathy.
"We wanted to refinance a number of green building projects, including the 6 Star Green Star Daniel Mannix Building in Melbourne and our physiotherapy building in Ballarat. We also wanted to fund some key social research programs focused on the most vulnerable people in our society," Jenkins explains. "The key was finding the right funding structure that reflected our mission and values."
For NAB, that meant ensuring that the road to the capital markets was truly paved with good intentions. "We'd been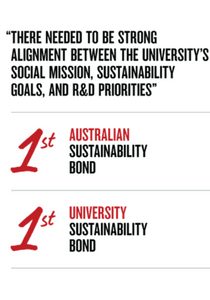 speaking to ACU for well over two years about a possible bond outing, and we understood that community lay at the very heart of the university's mission," NAB's Director of Global Infrastructure and Government Kanwar Singh says. "There needed to be strong alignment between the university's social mission, sustainability goals, research and development priorities with what was available through the funding instrument."
The university initially considered a green bond, but after participating in NAB's successful social bond to promote gender equality, realised there might be another path. "In June 2017, the International Capital Markets Association's sustainability guidelines came out, which brought together two key aspects for ACU – the merits of a social bond and a green bond," Jenkins says. "We realised we could be the first Australian issuer and the first university in the world to bring a sustainability bond to the market."
Director of Product and Channel Development at NAB James Waddell adds: "ACU's choice of sustainability as their thematic in this transaction was strongly aligned to their mission and NAB was uniquely placed to support them in their vision. Given our deep experience in bringing green and social bonds to the market, we knew we could help ACU break new ground with a unique bond structure."
Launching into success
Given the use of proceeds was focused on long-term projects, ACU was keen to explore the longer tenor 10-year space. "We looked at other longer tenor markets like the US private placement market, but in the end we felt a 10-year sustainability bond was the sweet spot in terms of the volume and pricing potential," Jenkins says.
Investors showed early enthusiasm for the university issuer – given the attractiveness of the sector, which is growing significantly, the relatively rare opportunity to buy into an Aa2 credit and, of course, the opportunity to buy a bond to satisfy the increasing appetite for socially responsible investments.
The team presented the $200 million bond at roadshows through Asia – Hong Kong, Singapore, Tokyo – and domestically, leading to an outpouring of interest. "ACU, as one of the fastest growing universities in Australia, saw it receive very strong interest across the investor universe and its commitment to sustainability saw it tick all the boxes for what funds increasingly want to see," NAB's Director of Corporate Debt Originations Brad Scott says.
"It's a sector investors like and its unique connectivity to the Catholic Church, scarcity and strong alignment to ESG mandates were all contributing factors that saw it price the tightest priced 10-year yield in the domestic market to date."
Unsurprisingly, oversubscriptions reached $500 million, with a mix of international and domestic investors. Initial pricing guidance was 100-105 basis points and the deal ended up coming in at 97 basis points, speaking volumes about the desire for investors to be allocated bonds to this world-first transaction, Scott adds.
Inspiration both ways
For Jenkins, one of the keys to success in an innovative issue like the sustainability bond was to have a holistic approach. "Having NAB as our arranger, adviser on capital management and ratings, and on capital raising, plus joint lead manager on the deal, meant we had the deep understanding we needed in one place. NAB understood ACU, and they are market-leaders in social and green bond issuance. We trusted their approach, we built on the relationship we already had, and got the pricing outcome we wanted," he says.
For NAB, the deal was a labour of love. "There's a tremendous desire at NAB to move Australia forward as we transition to a low-carbon environment and onto a more sustainable basis. We're focused on innovation and we're focused on a better outcome for people and communities," Scott says.
Seeing green
Treading lightly on the earth is a key part of Australian Catholic University's mission to promote the common good. It's therefore no surprise that its sustainability bond was linked to the refinancing of a series of green buildings the university has built, plus improvements to reduce its environmental impact through energy efficiency, water conservation, recycling and reuse of its waste, and constructing new sustainable buildings.
The buildings the bond will help fund include the 6 Star Green Star Daniel Mannix Building in Melbourne; the 5 Star Physiotherapy Building in Ballarat; the Mother Theresa of Kolkata Building and the Veritas Building.
Inside the Daniel Mannix Building
6 Star Green Star – Education Design v1 certified rating from the Green Building Council of Australia
55 per cent less greenhouse gas emissions
500,000 litres less water consumption
80,000-litre rainwater harvest capacity
encourages the use of sustainable transport in the local community, promoting cycling, walking and public transport
space for more than 170 bikes
Funding research with impact
One of the key uses of the funding raised is financing research programs in the area of health and education that aim to benefit vulnerable people. Two ACU research bodies will benefit – the Institute for Positive Psychology & Education and the Mary MacKillop Institute for Health Research (MMIHR).
For Associate Professor Prue Comrie, an exercise physiologist at MMIHR, continuing her research into the use of exercise in the management of cancer is crucial. "We develop, implement and evaluate effective interventions to improve the physical, mental and social well-being of people with cancer," she explains.
Her research looks at exploring how targeted exercise can counteract significant side effects of cancer and cancer treatments. In a world-first, Comrie's team recently considered how exercise can help manage mental health issues in men with prostate cancer.
"Current cancer care is not effective in helping with these types of issues," she says. "We use exercise to counteract the side effects of the treatment and manage depression and anxiety."
Overall, the team is seeing great results from the work, Cormie says. "We're seeing that exercise is the best medicine someone can use alongside their medical therapies. It allows them to experience fewer and less severe side effects. We're also seeing data that suggests exercise may provide a survival benefit and less risk of cancer coming back."